Juventus forward Andrea Pirlo scored another free kick goal in Italian derby against Torino
Is there anyone who can stop Pirlo from scoring directly via free kick? Well, we frankly don't know who can stop him. The World Cup winner scored the opening goal of the game directly from free kick. It was his 11th free kick goal in last four seasons of European football. Within the first half of the game, he successfully sent the ball into back of the back from spot.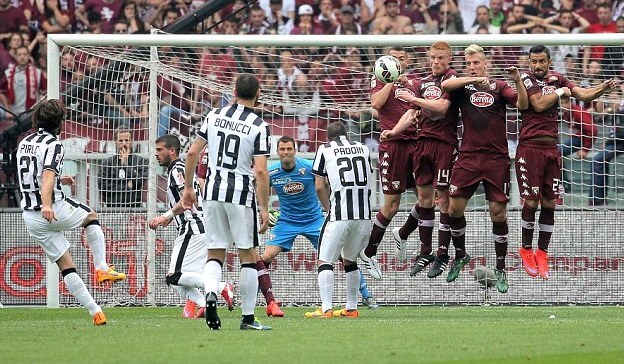 Andrea Pirlo have scored an approximate of 50 free kick goals in his entire football career. He is now one of the best free kick takers in this sports. It would be correct to vote him as the best free kick taker in the world right now. Watch the eleventh free kick goal video of Pirlo below.
https://www.youtube.com/watch?v=EMYzScdyA0E
Despite taking the first half lead, The Zebras failed to maintain the lead and conceded two goals against Torino. They fell to a 1–2 defeat and the hands of their rivals and missed out on wrapping up their fourth straight Serie A title. His contract with Juventus FC is ending at the end of this season, but the club will be looking to extend his contract without any doubt.
The 35 year old footballer is enjoying his career at Juventus. At this age, when many footballers plans for their retirement, he is becoming better and better. Pirlo looks as good anyone else in his position.
Despite loss to Torino, Juventus are still at the top of the table with 73 points. With 14 clear points lead to second spot Lazio, they have almost won this competition with six games to be played.
He has been playing for Juventus FC since 2011. Till now, he have played 156 official games for the club in which he have scored 18 goals out of which 11 came from free kick.