The all new home and away kits of Venezuela for Copa America 2015 football competition have been unveiled by Adidas. The new design of this home kit is inspired by international fashion trends which is looking quite impressive. The kit supplier have already launched new kits of Argentina, Colombia, Mexico and Paraguay for this tournament. Let's have a close of these new kits. The sports marketing manager of Adidas Venezuela Arturo Pertegaz said "We wanted to innovate. Last year, we introduced a Venezuela Home kit with a classical collar, designed for the 2014 World Cup in Brazil. We wanted to implement electricity gradually to Venezuela kits We know that electricity is a collar that will sell a lot, and will be used by young consumers."
Venezuela 2015 Copa America Home Jersey
The home jersey of Venezuela for Copa america 2015 is mainly featured with maroon appearance. In order to provide a fresh new look, the manufacturers have used garish yellow applications. Collars are in electricity v‑collar featuring a red triangle insert which is looking alike of away kit of USA 2015 jersey.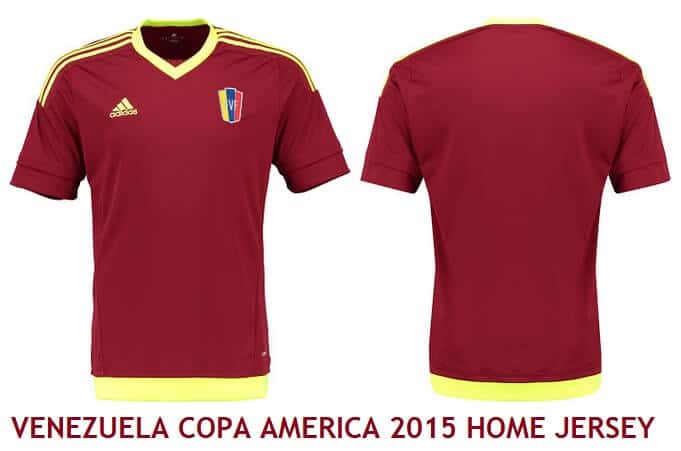 At the bottom of jersey, there is a single wide yellow colored stripe. On its shoulders, three yellow colored Adidas stripes are there from neck in same appearance. Team's badge in yellow, blue and red color is printed on left side and Adidas trademark logo is there on right side. You can also look new 2015 Copa America kits of Argentina.
Venezuela 2015 Copa America Away Jersey
The away jersey of Venezuela is completely reverse of the home jersey. Maroon has been replaced by Yellow and yellow by maroon. All remaining patterns are available at same places with minor change at the bottom of away t‑shirt. In place of single stripe at the bottom, two maroon shades are designed on each side.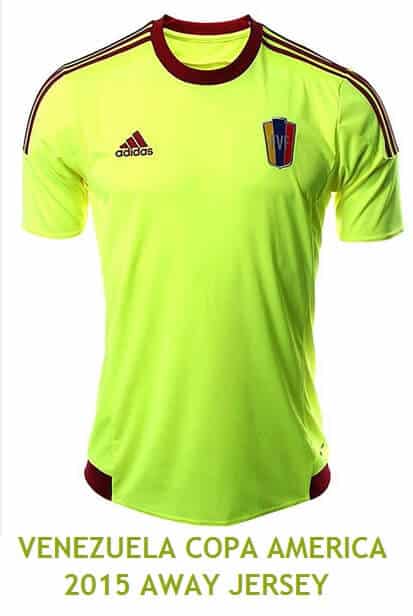 There is a change in its collar also. The yellow Venezuela Copa America 2015 jersey is featured with a burgundy crew neck collar or you can say round collar. Check out the collection of new 2015 Copa America kits.