New Nike 2015 USA away kit of soccer for men and women have been released. The design of this new away jersey reminds that of 1990s that got lots of attraction. The perfect combination of different blue layers and white applications makes this away jersey of USA more attractive. Lets have a close on the all new away jersey of United States unveiled by Nike.
USA 2015 Away Kit By Nike
On 16th Feb 2015, the official kit supplier of national football team unveiled the away jersey of United States. This new USA 2015 away jersey will be worn by Men's National Team against Switzerland on 25th March. Whereas, U.S. Women's Team players will wear it during the Algarve Cup which is beginning in 2015.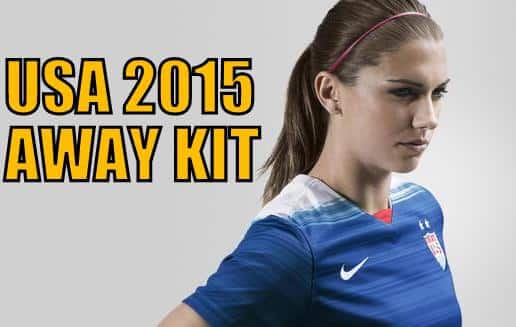 The front of away jersey features nothing but badge of national team and brand logo. Blue and red colored team's badge is there on left chest, while white colored Nike Swoosh is marked on other chest. Different horizontal shades of blue color are marked at the front and at the back.
Alex Morgan and Clint Dempsey unveiled the new kit of Men and Women's National Team. We found some tweets on Nike's soccer twitter account. Have a look.
Here are more images of the new #USWNT away kit from @nikesoccer available Wednesday! http://t.co/GwYXfI9ALk pic.twitter.com/FXIOJZSK07 — World Soccer Shop (@worldsoccershop) February 16, 2015
FIRST LOOK: Alex Morgan & Clint Dempsey unveil Nike's US National Away Team Kit pic.twitter.com/Cf4dhJR4JG — Darren Rovell (@darrenrovell) February 16, 2015
At the bottom of jersey, Navy Blue is used that is providing striking pattern. On sides of USA 2015 away jersey, single white stripe is also marked just like on shoulders. The v‑collar of the new United States Soccer jersey features a stiking and v‑design. Inside the neckline is a pennant tab with thirteen red and white stripes representing the 13 colonies.
On the back of jersey, player's name and number are there in white applications. New Nike USA 2015 jersey features a "unique, specially designed font that is modern, angular and directly influenced by U.S. college and varsity sports."