UEFA best player of the year 2014–2015 announcement date and schedule
The date UEFA's best player of year for the season 2014–15 has been announced by Union Of European Football Association. Once again, Real Madrid's Cristiano Ronaldo and Barcelona's Lionel Messi have made it to the final three along with another Barca player Luis Suarez. This means there are two players from Barca who are nominated for the best European footballer of the year. Earlier few weeks ago, UEFA announced the list of best 35 players out of which 10 got most votes and now the listed has 3 players left. Title holder Cristiano Ronaldo made it fifth time in a row while Lionel Messi made come back after a gap of one year. Check out the schedule of UEFA player of the year 2014–2015 below.
UEFA Player Of The Year 2014–2015 Date Announcement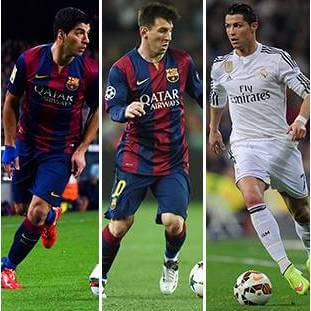 Date: 27 August 2015 Venue: Monaco The name of winner will be announced on 27th of August 2015 at Monaco. based on the votes of experts and fans, the name winner will be declared this Thursday. Don't miss: Arsenal 2015–16 IST Fixtures
Top Three Players
Lionel Messi: The winner of first edition of this award made come back as he was not listed in best three last year. Lionel Messi won this award in 2011 for his incredible performance and also won Ballon D'or next year. Later on next year, Lionel Messi was at second spot as his team partner Andres Iniesta won the title defeating him and Cristiano Ronaldo. Again in 2013, he finished at third spot when Bayern Munich's forward Franck Ribery won the trophy. The only edition in which Messi was not in top three was in 2013–14. Cristiano Ronaldo: Current winner of UEFA Best Player of the year is again voted for best European footballer. Cristiano Ronaldo is one and only player who is nominated all editions of this award. Last year, he won the trophy defeating two Bayern Munich's players named Manuel Neuer and Arjen Robben. He scored most goals in La Liga last season, but remained trophy-less with club which could be major disadvantage of Ronaldo. Luis Suarez: Here comes another Barcelona player who is listed for the title. Won treble in first season with Barcelona, and made a perfect come back after facing 6 months ban. Luis Suarez made great combination with Lionel Messi and Neymar last season and netted 122 goals total. He was named as man of the match in round of 16 game against the British side Manchester City. So what are your predictions for the winner? Do you think Ronaldo will successfully defend his title or Messi will take it from him?