Increase in Prize Money of UEFA Champions League and Europa League: The Union of European Football Association have increased the prize money of both Champions League and Europa League by almost 40%. This increment will be taken from next season i.e. UCL 2015–16. Michel Platini, the president of UEFA have announced new winning prize of both competitions.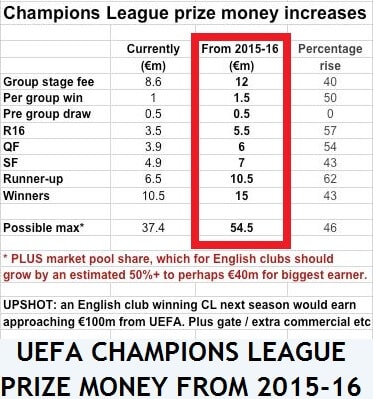 New Prize Money of UEFA Champions and Europa League
In comparison to current winning prize, it is about 40% increase that will closer the winning amount of Champions League and Europa League. The new winning amount will be awarded to the winner from 2015 to 2018.
According to Sky Sports, Winner of UCL 2014–15 will get £7.6 million, but according to this agreement, they will get £10.9 million as winning prize from next season. A spoke-person of FIFA told to Sky Sports News HQ that "Operational and administrative", but details have yet to be finalized.
The European Club Association [ECA], the independent body which directly represents football clubs at European level was created in 2008. Karl Heinz Rumminegge said "The ECA is still a very young organization. These achievements are an extraordinary success, which will strengthen the solidarity among the clubs and our sense of responsibility for football."
Champions League prize hikes for next season … and what they mean: http://t.co/bIihvRZnK1 pic.twitter.com/qtBYegTtLJ — sportingintelligence (@sportingintel) March 31, 2015
President Platini said "I am very pleased hat we have extended out partnership with the ECA until 2022. I have always believed that UEFA should work together with national associations and clubs in order to find the best ideas and solutions for European football. I look forward to seeing our relationship continue to blossom in the future as we make sure that our collective interests are promoted and protected."
The amount of money will be shared among the European Club Association which includes teams of Premier League, La Liga, Bundesliga, Serie a, Ligue 1 etc. Champions league 32 clubs will share £872 million which was £696 million earlier from next season. Other competition Europa League will share £277 million which was £167 million.