This is about the details of UEFA Champions League Trophy which is awarded to the winning team of each season. The UEFA officials have released the changing version of the Champions League Trophy which is the sixth version. It is the original trophy at all times, and this is the only other official replica in silver 925. engraved with names of all winning teams. Have a look on the new UEFA Champions League Trophy Design, Weight Details.
UEFA Champions League Trophy Details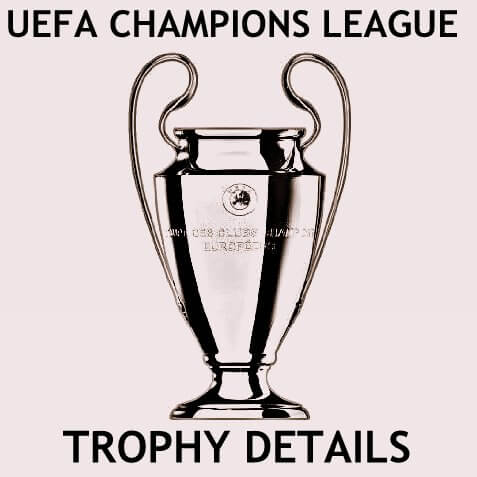 Design: The complete outer design of this trophy is made up of silver 925 at a cost of 10,000 Swiss Fancs. Jorg Stadelmann is the designer who is better known as a jeweller of Bern, Switzerland. The original trophy was given to Real Madrid in the year of 1966. There is only one difference in its design that it does not have the gold plating inside. Size & Weight: Height of Champions League Trophy is 73.5cm and weighs 7.5kg. It is marked with a title "COUPE DES CLUBS CHAMPIONS EUROPEENS". For the first time, the new of this competition was given to Billy McNeil, former captain of Celtic FC for winning this title.
UEFA Champions League Trophy History
Before the 1992–93 season, the Champions League originally named was European Cup in which only the champions of their respective national league and defending champion of the competitions were allowed to participate in the tournament. In 1997, the rules changed and runner-up of the stronger leagues allowed to compete as well with the champions. Until the rules were changed in 2005, the defending champion of the Champions League did not automatically qualify. The Liverpool was the first team to enter as the defending champions in the Champions League competition. In 1968–69, a rule were introduced that the cup become the property only when any club won the competition five times or three times in a row. Under new regulations, any which wins the trophy three consecutive times or five times in total receives a special mark of recognition, with the club then starting a new cycle from zero. Only five football clubs have got that honour to have an original trophy in their own rooms.
Real Madrid

Ajax Amsterdam

Bayern Munich

AC Milan

Liverpool
Teams won this trophy at least once: Real Madrid, AC Milan, Bayern Munich, Ajax Amsterdam, Liverpool, Manchester United, Borussia Dortmund, Feyenoord Hamburg, Inter Milan, Barcelona, FC Porto, Nottingham Forest, Benfica, Celtic FC, Aston Villa, Hamburg, Juventus, Steaua Bucuresti, PSV Eindhoven, Red Star Belgrade, Marseille & Chelsea FC.