So we got 8 best teams for next round of UEFA Champions League season 2013–14. As expected best teams from domestic leagues booked their tickets for quarter final round & now each of these teams will face stronger competitor of the tournament. Match draw & timing for the draw of Champions league for quarter finals round are announced by UEFA. Find date & time of quarter final draw right over here.
Quarter final draw date & time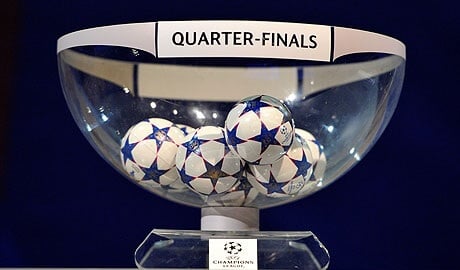 The draw for next round of Champions league will be presented on 21 March 2014 at UEFA's House of European Football in Nyon, Switzerland. Last draw for Round of 16 was also organized here with best 16 teams. The draw will start at 11:00 am [GMT]. The official website of UEFA i.e. UEFA.com will provide Live telecast of the draw. From Spain, 3 clubs have qualified for this round which is maximum from any other nation. These 3 teams are Real Madrid, Barcelona & Atletico Madrid. All these 3 clubs made huge victories over their rivals in round of 16. The current champions of Europe Bayern Munchen are still the toughest competitor of the title despite last draw against Arsenal at Allianz Arena. Date of Draw: 21 March 2014 [Friday] Timing: 11 am [GMT] & 4:30 pm [IST] Live Stream: UEFA.com
Teams for next round of UCL
As discussed earlier, three clubs from Spain will play quarter finals. However, 2 clubs from England, 2 from Germany & 1 from France will make this competition at its best.
The Real Madrid star striker Cristiano Ronaldo is just one goal away from scoring maximum number of goals in a single champions league season. Currently, Barcelona's Lionel Messi is at top spot with 14 goals in single season of this campaign.
UCL 2013–14 Quarter Final Match Fixtures
The team undefeated in Bundesliga is the strongest competitor of the title. Once again they knocked out Arsenal with an aggregate score of 3–1 in last round. The Spanish side Atletico Madrid, Real Madrid & Barcelona qualified with comfortable win of 5–1, 4–1 & 9–2 respectively. The games of Manchester United & Olympiacos were the most entertaining & dramatic matches of the round of 16. David Moye's squad made a superb come back in the competition & proved themselves that they are one of the strongest competitor. for Man Utd, Robin Van Persie & David de Gea were the reasons for teams qualification to Quarter finals.