The Union of European Football Association have announced the prize money of 2014–15 UEFA Champions League season. The governing body of European football have announced the total winning amount of UEFA Champions League and UEFA Super Cup which is now €1.34bn [Approx]. New season of this competition is all set to begin from 16th September 2014 with group stage games. Check out how much each team will get in this competition.
UEFA Champions League 2014–15 Prize Money Distribution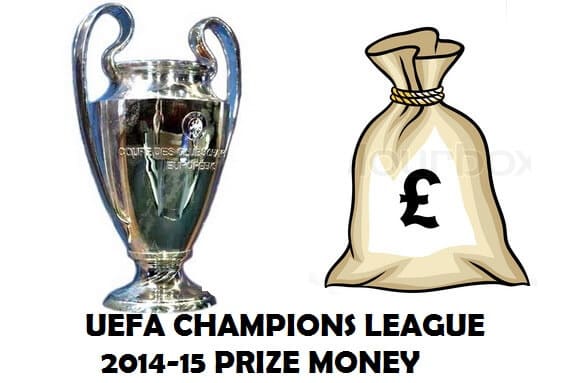 Just like 2013–14 season, play-off knocked teams will receive total winning amount of €55m. Out of this amount, each of 20 teams will get €2.1m of prize money. Each of 32 group stage teams will be awarded with prize money of €8.6m. For each win in group stage match, teams will get €1m and 0.5m for each draw.
Domestic Champions failed to qualify for group stage: €0.2m
Each team eliminated in 1st qualifying round: €0.15m
Each team eliminated in 2nd qualifying round: €0.175m
Each team eliminated in 3rd qualifying round: €2m
Each Play-offs knocked out teams: €2.1m
Group Stage base fee: €8.6m
Group stage match win: €1m
Group stage draw: €0.5m
Round of 16: €3.5m
Quarter finals: €3.9m
Semi finals: €4.9m
Runner-ups: €6.5m
Champions: €10.5m
To every team eliminated in round of 16, UEFA will distribute prize money of €3,500,000. Eight quarter finalists will receive €3,900,000, semi finalists will get €4,900,000. Team losing final match can anticipate minimum of €6.5m. Team winning final match will get €10.5m which means the Champions of Champions league 2014–15 will get €10,500,000. However, each Champion of domestic club which failed to qualify for the group stage games will also receive €0.2m. Each team knocked out in first round of group stage qualification will get €150,000, whereas each team knocked out in second round qualification round will receive €175,000. €200,000 for teams eliminated in third qualifying round each. UEFA have decided that round about 75% of the total amount which is earned from media and commercial contracts, up to a maximum of €530m will be distributed to the clubs playing in this competition. The remaining 25% of the revenue will be reserved for European football, and will remain with UEFA to cover organizational and administrative costs as well as solidarity payments to associations, leagues & clubs.