The UEFA Champions league season 2013–14 got 4 teams for the next round which is round of Semi final. After impressive & dramatic quarter finals, the champions are ready for their new rivals of next round. These quarter finals were played on 1, 2, 8 & 9 April of 2014. Team which qualified for this round are Real Madrid, Chelsea, Bayern Munich & Atletico Madrid. These 4 are now waiting for the draw of semi finals which will be organized in few days. Here we are sharing news about draw date & time of semi final round of this competition. Draw Date & time of Semi Final For Champions League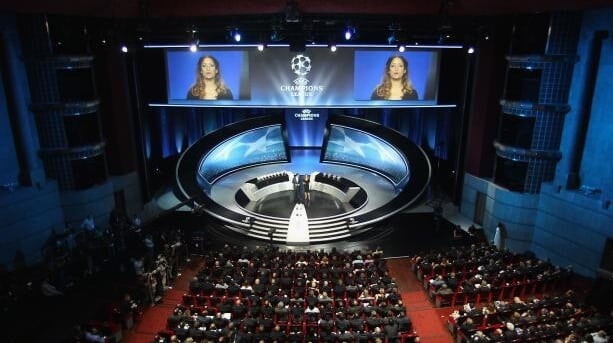 Like last season, For this round, 2 clubs from Spain qualified again. In last season 2 top clubs Real Madrid & Atleti qualified & this time, Atletico Madrid replaced Barcelona. This draw will be held on 11 April 2014 at head office of UEFA i.e. Nyon, Switzerland. We've also seen last few draws at this head office. Those who are looking for to watch this draw live can watch it on official website which is UEFA.com. Draw Date: 11 April 2014 Draw Time: 10 am [GMT], 12:00 pm [CET] 3:30 pm [IST] Live Stream: UEFA.com From all over the world, top 4 teams have qualified for semi finals & now the competition is at its peak level. This month would be one of the toughest month for these champions as along with this tournament, they have to play some other big games of other competitions like Real Madrid & Barcelona will play final of Copa Del Rey.
For this draw the same process will be applied by UEFA. After draws, the first leg of semi final games will be played on 22 April, Tuesday & 23 April, Wednesday 2014. While, the second leg games are scheduled to be play on 29 & 30 April.
Last 4 Teams For Semi Finals
The English football club Chelsea & Spanish club Real Madrid first qualified for semi final. This draw will be conducted by UEFA General Secretary Gianni Infantino and UEFA Europa league final ambassador for the champions league final, the former Portuguese wing wizard, Luis Figo.
Real Madrid: Although the Vikings qualified for next round, but Spanish champions had to work a lot against Borussia Dortmund. Despite an advantage of 3–0, they suffered very well at Signal Iduna Park where Marco Reus scored 2 home goals in first half. After qualification, Real Madrid is the first team to qualify for this round maximum number of times. Chelsea: The English club made a perfect come back at their home Stamford Bridge. In first leg they were faced defeat by 3–1 at Parc des Princes stadium. But in second half, the Parisians, were defeated with presence of Zlatan Ibrahimovic & the second leg game ended by 2–0 in favor of Chelsea. Chelsea won on away goals. This is the second time, PSG lost on away goals. Last season, result was same against Barcelona. The final match will be played Estadio da Luz in Lisbon, Portugal. This means the home of Cristiano Ronaldo will organize the final match of UEFA Champions league 2013–14. This is best opportunity for him to win this competition at his home. What do you think, who will win champions league this time?