So now we have now 16 professional football clubs which have successfully qualified for the round of 16 of Champions League. All matches of Group stage are completed & now round of 16 will begin from month of February next year. Now draw of UEFA will decide which team will play their upcoming match in next round of champions league. Here we are sharing news about the draw dates of UEFA Champions league competition.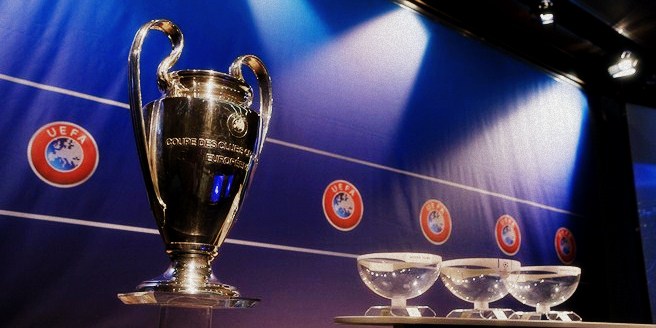 All 16 teams are ready to face their opponents in next round. These qualified football clubs are Manchester United, Manchester City, Bayer Leverkusen, Real Madrid, Galatasaray, Paris Saint Germain, Olympiacos, Chelsea, FC Schalke 04, Arsenal, Borussia Dortmund, Atletico Madrid, Zenit FC, Barcelona & AC Milan. Draw date of Champions league 2013–14 is 16 December 2013. Draw Date: 16 December 2014 [Monday] Venue: Nyon, Switzerland
Round of 16 Match Dates, Fixtures of 2014
UEFA will conduct a draw which will decide which team will face in next round of UCL. The knockout phase round of first leg of UCL will begin from 18 February to 26 February 2014. From 11 to 19 March 2014, second leg of Round of 16 champions league will be played.
Favorites of Champions league title
In this competition, the current Champions of UEFA Champions league Bayern Munich are still on first spot of fans favorite. They the toughest competitor of this season even they faced loss in last match against English club Manchester City. In this draw the clubs from same country cannot play against club of same nation until the quarter final stage.
Three Spanish clubs Barcelona, Real Madrid & Atletico Madrid are also one of the toughest competitor of this season. The English club Manchester United which is not performing well in Premier league is still in this race with the Sky Blues & the gunners. The the draw will be conducted on 16 December 2014, till then you have to wait for that. Till then, enjoy your respective domestic leagues.