Possible line-ups of UEFA All Star South vs All Star South North: The dream of watching Lionel Messi and Cristiano Ronaldo play together could be true. A multinational marketing company approached the Union of European Football Association the annual fixture, featuring stars from Europe's top six leagues. The team would be named "Team South" from La Liga, Serie A and Ligue 1 and "Team North" from Barclays Premier League, Bundesliga and Russian Premier League. Possible line-ups of this all star UEFA game have been predicted. So without wasting time, let's have a look on which star football is featured in possible starting XI.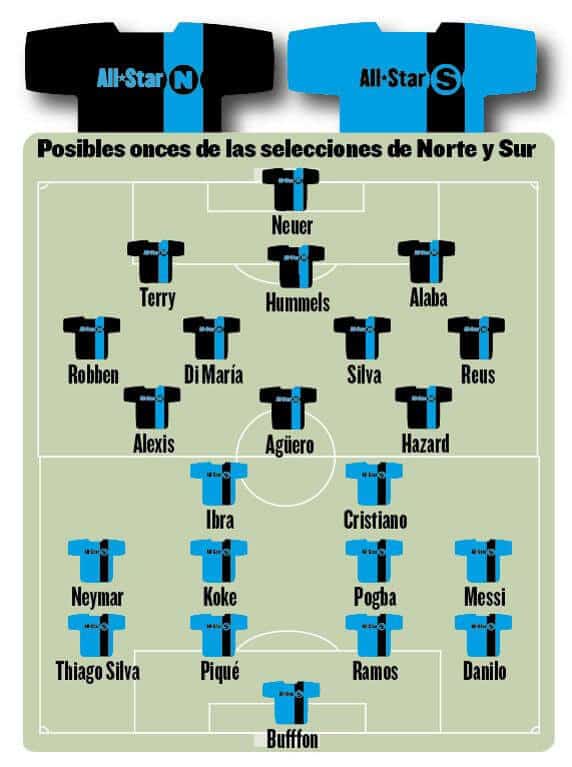 UEFA All Star South Team vs North Team Possible Lineups
South Team Team from: La Liga, Serie A and Ligue 1
North Dream Team from: Premier League, Bundesliga and Russian Premier League.
| | |
| --- | --- |
| South Team | North Team |
| Gianluigi Buffon | Manuel Neuer |
| Danilo Luiz Da Silva | John Terry |
| Sergio Ramos | Mats Hummels |
| Gerard Pique | David Alaba |
| Thiago Silva | Arjen Robben |
| Lionel Messi | Angel Di Maria |
| Paul Pogba | Thiago Silva |
| Koke | Alexis Sanchez |
| Neymar | Sergio Aguero |
| Cristiano Ronaldo | Eden Hazard |
| Zlatan Ibrahimovic | Marco Reus |
Note: This is the predicted line-ups of the game. The players would be chosen by an online fan poll with no more than three players from same club.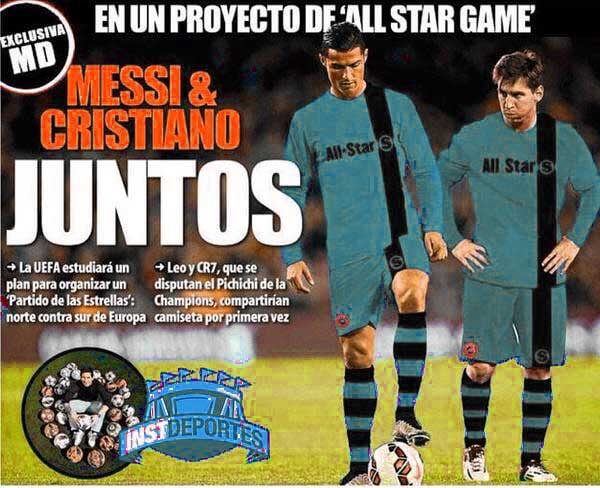 Not only Cristiano Ronaldo and Lionel Messi, players like Neymar, Zlatan Ibrahimovic, Eden Hazard, Marco Reus are also expected to make appearance. On the other hand, the star players of Manchester rivalry would be featured with Angel Di Maria, his national team-mate Sergio Aguero. Alexis Sanchez and Eden Hazard are also expected to play.
A Spanish newspaper Mundo Deportivo report that an All-Star match has been proposed that would bring together superstars of European football — including Cristiano Ronaldo and Lionel Messi.
The newspaper also added that the European football governing body have not yet approved this project but they suggest that president Michel Platini may well be interested to this kind of friendly game.
It would be such a great game just like the final of Football World Cup. So how much you are excited to watch this clash of superstars?