Chelsea's last win against Crystal Palace claimed them the Champions of Premier League 2014–15. This is probably the best season of the blues as they suffered just three defeats throughout the season. This is the third title of Jose Mourinho that he won at Stamford Bridge. Although they are eliminated from Champions League, but the Portuguese manager already won Capital One Cup and Premier League trophy this season. Let's have a look on twitter reactions to Chelsea title win.
Twitter Reactions To Chelsea Premier League 2014–15 Title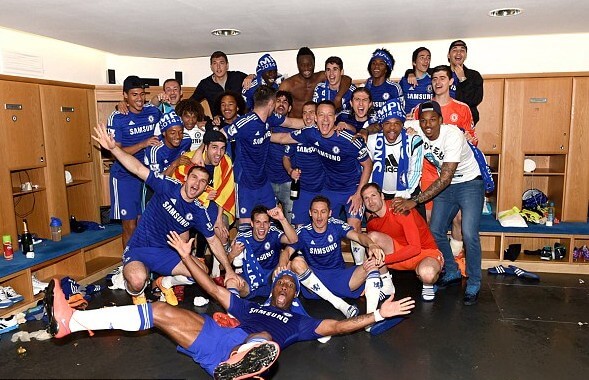 Check out some tweets that we found on Twitter after Chelsea's title win.
Chelsea — Before Russian money! pic.twitter.com/dstDs2gXYJ

— Not Match of the Day (@NOT_MOTD) May 3, 2015
Ruben Loftus-Cheek: PL Minutes Played: 1 PL Medals: 1 Steven Gerrard: PL Seasons Played: 17 PL Medals: 0 pic.twitter.com/0EJwVPoS51

— Sunday League Footy (@SundayChants) May 3, 2015
Steven Gerrard will end his Liverpool career with a guard of honour for Chelsea next week. pic.twitter.com/02IVcISn7d — Football__Tweet (@Football__Tweet) May 3, 2015
Chelsea heatmap pic.twitter.com/Go3wcLrjla — Football Stuff (@FootbalIStuff) May 3, 2015
Modern football http://t.co/JN1zyC9AG9 pic.twitter.com/CrJ4E8Rsp7

— MailOnline Sport (@MailSport) May 3, 2015
John terry played every minute of every game what a player he is!! And a nice touch at the end about Rio #legend pic.twitter.com/DNxG4wm0sj

— CHAMPIONS CFC (@ChelseaBlueFC) May 3, 2015
John Terry: "On behalf of everyone at Chelsea, we want to send our condolences to Rio Ferdinand and his family." pic.twitter.com/e2SwQmpuXu — Footy Jokes (@Footy_Jokes) May 3, 2015
At Stamford Bridge today.. pic.twitter.com/s5C4f0NDL6 — Football Funnys (@FootballFunnys) May 3, 2015
"@addictedtoCFC: Boring Boring Chelsea what?!!!. pic.twitter.com/UXkHYqahxv"

— ana (@rianaseptiana5) May 3, 2015
Most clean sheets in the Premier League this season: Chelsea (17) Southampton (15) West Brom (15) Liverpool (14) pic.twitter.com/h4UzNIRVOU

— Squawka Football (@Squawka) May 3, 2015
PIC: Jose Mourinho at Chelsea.. pic.twitter.com/Fpr8bqctlM — ChelseaTalk (@TheBlues_Talk) May 3, 2015
Related: Twitter reactions to Chelsea Capital One Cup win against Tottenham Jose Mourinho is turned out to be the best manager of Chelsea Football Club. The manager won first ever Premier League title in season 2014–15 and defended the trophy next season. This is the eighth major title win of Jose Mourinho with Chelsea. Do you think he is the manager ever manager of Chelsea?