Deloitte Money League have revealed the list of top 10 richest football clubs of 2015. Once again, the Spanish giants Real Madrid maintained its first spot in world's most richest football clubs. While, its El Clasico rivals, Barcelona slipped from second spot to third fourth spot. This means Barca not only dropped from second spot, but they also lost their spot from top three richest football clubs. British club Manchester United made a huge jump from fourth spot to second spot and now Man United is the second richest football club according to Deloitte Money League 2015. Check out the list of most valuable football clubs of 2015.
Top 10 Richest Football Clubs of 2015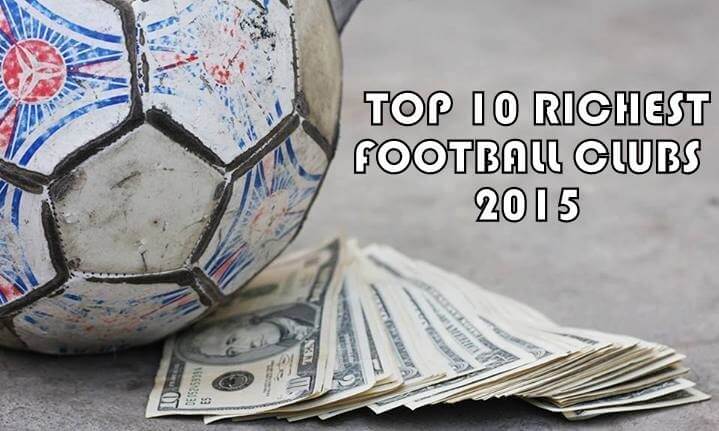 | | | | |
| --- | --- | --- | --- |
| Rank | Last year | Club | Value [million] |
| 1 | 1 | Real Madrid | €549.5 |
| 2 | 4 | Manchester United | €518.0 |
| 3 | 3 | Bayern Munich | €487.5 |
| 4 | 2 | FC Barcelona | €484.6 |
| 5 | 5 | Paris Saint Germain | €474.2 |
| 6 | 6 | Manchester City | €414.4 |
| 7 | 7 | Chelsea | €.87.9 |
| 8 | 8 | Arsenal | €359.3 |
| 9 | 12 | Liverpool | €305.9 |
| 10 | 9 | Juventus | €279.4 |
1. Real Madrid: Last year's topper Real Madrid named as the most richest football club by Deloitte Money League. Last year, their market value was €518.9m which is now €549.5m. The signing of James Rodriguez, Toni Kroos and new extended contract with Adidas helped in raising their market value.
2. Manchester United: After a nightmare season 2013–14, the British club Manchester United saw not only the worst season, but also suffered loss in their value by huge amount. This season brought some good news for the red devils after the arrival of Dutch Manager Louis Van Gaal. The worth of this club is now €518.0m.
3. Bayern Munich: The German club is one of those club that made a huge profit last year. With total market value of €487.5m which was €431.2m last year, the club is the third richest football club beating Barcelona in this race.
4. FC Barcelona: The Catalans are no longer one of the three most valuable clubs in the world right now. They are dropped to fourth spot according to the Deloitte Football Money League in 2013–14. Club's total revenue is +2.0m according to recent resources.
5. Paris Saint Germain: The first club in this list that didn't lost their current spot is French club Paris Saint Germain. Charting a 19% increase on 2012–13 with €474.2m and sensational 69% of their income was recorded in commercial receipts, with their sizeable sponsorship deal with the Qatar Tourism Authority accounting for much of that figure.
6. Manchester City: With total profit of €98m [approx.], City successfully defended their sixth spot in top 10 most richest football clubs of 2015. This confirms that Manchester City is the second most valuable club in United Kingdom. In short Manchester have dominated the list.
7. Chelsea: With total market value of €387.9m, Chelsea was the most active football club to complete the most expensive transfer of football. The London based club showed maximum interest in signing Lionel Messi with record amount of €200m. But later the Barcelona's top goal scorer denied all offers and said he would like to stay with his current club.
8. Arsenal: Even after huge amount signings, The gunners are still at eight spot in the most valuable clubs of 2015 listed by Deloitte Money League. The arrival of former Barcelona's star Alexis Sanchez made record sale of his t‑shirts.
9. Liverpool: The British club which regained its position in top 10 list made a revenue of €65m [approx.]. Last year, the club got twelfth spot in this list and now it is enjoying place of Juventus. Last year, the club qualified for the Champions League competition which seems to be difficult for this season.
10. Juventus: So the Italian club Juventus is the only club in the list of top 10 most richest football club of world. The club replaced other Italian club AC Milan after turnover of €7m approx.