List of most paid football club managers in 2014–2015.
In today's football world, managers are considered as not just the managers, they are fathers also. Footballers spends most of their time away from home that makes them away from their fathers. However, coaches comes into play and fill the vacant space of father. Managing a team, specially a football team is not everyone's cup of tea. It would be not incorrect to say that they are doing one of the most toughest jobs. They get paid with very good salary to do this great job. Today, we are bringing you the list of highest paid football managers in 2015. So here we go.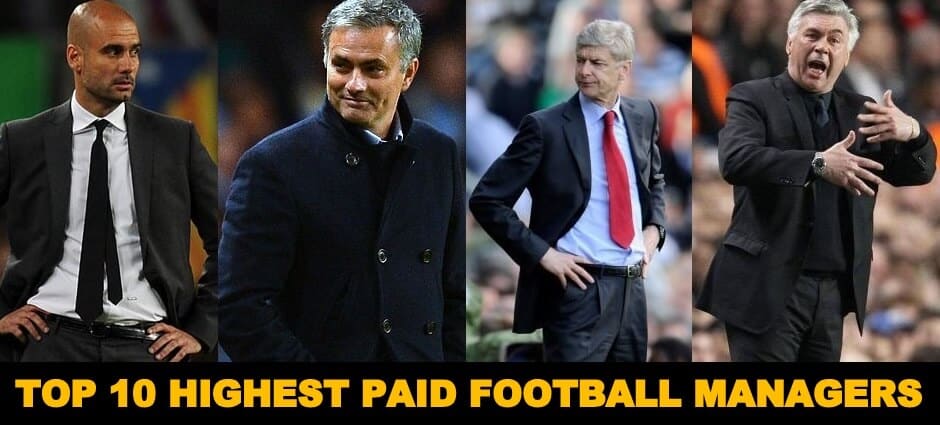 Top 10 Highest Paid Football Managers in 2015
10 Laurent Blanc [PSG] and David Moyes [Real Sociedad] €7 million The countdown begins with PSG and Real Sociedad manager. Former Manchester United manager was signed by the Spanish club Real Sociedad. Managers of Paris Saint German, Laurent Blanc is also the tenth highest paid manager in 2015. 9. Jurgen Klopp [Borussia Dortmund, Salary: $7.2 million] Here comes the first manager of German club in the name of Jurgen Klopp. The enthusiast, the professional and the excited Jurgen Klopp build Borussia Dortmund with youngsters. He was offered to become the new manager of BVB in the year of 2008. He rebuild Borussia Dortmund and took the club to sixth place from 13th place in his first season in charge. He won DFB Super cup defeating FC Bayern Munich in first season. Few years later, Klopp won consecutive Bundesliga titles in 2010-11 and 2011-12. 8. Sven-Goran Eriksson [Shanghai SIPG, €8 million] You may have not heard about Sven Goran, but now you'll be looking to know more about him. Manager of Shanghai SIPG, Sven-Goran Eriksson is ninth highest paid football manager of 2015. Being a manager, he tasted great success at Benfica and Lazio. While coaching Lazio, he won Serie A, Coppa Italia twice, Italian Super Cup twice, UEFA Cup Winners' Cup and UEFA Super Cup. 7. Andre Villas-Boas [Zenit Saint Petersburg, €8.5 million] Before Zenit, he used to manage Tottenham Hotspur from 2012 to 2013. Andre Villas also coached Chelsea Football Club from 2011 to 2012. He was signed by Zenit, replacing Luciano Spalletti and took the reins the day after the Champions League round of 16 against the German club Bayern Munich. 6. Fabio Capello [Russia, €9 million] Former Real Madrid manager Fabio Capello is the sixth highest paid football manager with salary of $9 million. On 26 July 2012 Capello became the manager of Russia National Football team. His first competitive game in charge of Russia was the opening match of the 2014 World Cup qualification campaign, a 2–0 victory at home to Northern Ireland. 5. Louis Van Gaal [Manchester United, €10 million] The Dutch manager is known for coaching one of the best European football clubs including Bayern Munich, Barcelona and National team Netherlands as well. Louis Van Gaal replaced former manager of Man United, David Moyes on 19th May 2014. Van Gaal named Ryan Giggs as his assistant manager, Marcel Bout as assistant coach. He first signed Ander Herrera and defender Luke Shaw. In August 2014, the manager confirmed transfer of Angel Di Maria from Real Madrid at 59.7 million pounds. This is the most expensive transfer in the history of British football. 4. Arsene Wenger [Arsenal, €11.3 million] Since 1996, Wenger is managing Arsenal Football Club and have huge role behind the creation of Premier League club. In 1996, the club dismissed manager Bruce Rioch and appointed Arsene Wenger on 30 September 1996. On 12 October 1996, Arsenal played first match under his management that went a 2–0 away victory of the gunners against Blackburn Rovers. AFC won 3 FA Premier League, 5 FA Cup and 5 FA Community Shield titles with Wenger. 3. Pep Guardiola [Bayern Munich, €15.2 million] The current manager of Bayern Munich tasted great success with Spanish club FC Barcelona. Pep Guardiola was signed by the German club FC Bayern with contract fee of $24 million when Jupp Heynckes retirement from Germany's biggest club. With Barcelona, he won three La Liga titles, three Super Copa de Espana, two Champions League, 2 UEFA Super Cup and two FIFA Club World Cup titles. Barca became the first team that won all 5 trophies in one season under his management. 2. Carlo Ancelotti [Real Madrid, €15.5 million] It was a time when ten times Champions League winners were in search of a manager who can win the 10th UCL title. Finally, the club found the manager in the form of Carlo Ancelotti who gifted tenth Champions League title to Real Madrid. Also, he guided Los Blancos to win Copa Del Rey, UEFA Super Cup and the first FIFA Club World Cup title in his first charge at Real Madrid. Cristiano Ronaldo won two consecutive FIFA Ballon D'or trophies under the management of Carlo Ancelotti. 1. Jose Mourinho [Chelsea, €18 million] Jose Mourinho is the highest paid football manager of 2015. For the second time in history, Chelsea Football club signed former Real Madrid manager Jose Mourinho for a four year contract. The Portuguese manager told to Chelsea TV "In my career I've had two great passions — Inter and Chelsea — and Chelsea is more than important for me. it was very, very hard to play against Chelsea, and I did it only twice which was not so bad." On 18 August 2013, Chelsea played first game in charge of Jose Mourinho and won the away game by 2–0 against Hull City.