Former Barcelona striker Thierry Henry said few words about the rivalry of Cristiano Ronaldo and Lionel Messi. Thierry Henry, who played for huge number of European football clubs feels his former team partner Lionel Messi is better as compared to the current best football player. Henry praised the Real Madrid winger a lot, but he thinks Ronaldo is missing the class of Messi.
Ronaldo bagged two Ballon D'ors in last two years, defeating Lionel Messi twice, Henry still believes that his team-mate have better skills. In addition with this, he said football fans should enjoy the beautiful game of these two. He asked by FIFA.com, he told
"I played alongside Leo, so there's my answer. I have an enormous amount of respect for Cristiano, as someone who maintains such a high level for several years. It's one thing to have a good season, and then have another four years later but to keep up with that level for consecutive years is something else."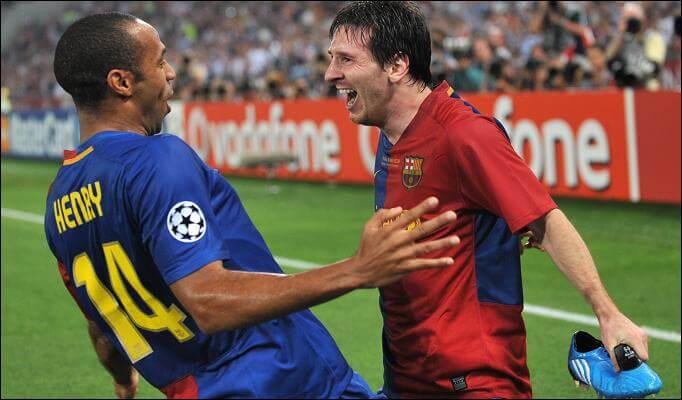 "People realize it, of course, but I feel like we still don't grasp the real measure of what these two are doing. In future, people will look back in awe at the continuity, the goals and the pressure that comes along with doing this for so long."
"So I'm full of respect for Ronaldo, but I played with Leo and had extraordinary moments with him, we lost and won together, so that is all I have to say on Leo."
For FC Barcelona, Henry played total of 80 games from 2007 to 2010 in which he netted 35 times in all competition. Thereafter, he moved to American Soccer club called New York Red Bulls, where he played 122 official games, scored 51 goals.
One time FIFA World Cup winner, Thierry Henry played his last game for his last club New York Red Bulls and took retirement from football. The Frenchman has now joined Sky Sports as a pundit, means he will be not available from 2015 Major League Soccer.
Keep surfing the other pages of footballwood for latest updates of footbal.