Spanish La Liga 2016–17 Fixtures According To EDT (USA Time), BST (British Time), IST (Indian Time), GMT+0
Spanish La Liga 2016–17 season fixtures has been officially announced. Here you will get the information about all La Liga upcoming matches according to EDT (USA Time), BST (British Summer Time), GMT+0 and Indian Standard Time The season is beginning on 20th of August 2016.
The first Clasico to take place on the weekend of December 3/4 at the Nou Camp. Real Madrid will host the competition's showpiece game on April 22 or 23 — the fact the contest against Barcelona falls towards the tail end of the season means it will undoubtedly have a sway on where the title goes. Champions Barca kick off their domestic campaign with a home fixture against Real Betis before a difficult travel to San Mames to face Athletic Bilbao.
UEFA Champions League winners Real Madrid will be on the road in their first game as they travel to face Real Sociedad. Head coach Zinedine Zidane will be looking to get his first full season off to a winning start after such an impressive end to his first experience of football management. Atletico Madrid were left heartbroken by that defeat in the Champions League final and will be hoping to recover from that in their opening game against Alaves, which will take place at the Vicente Calderon. Another set of games to keep an eye on are the Madrid derbies. Atletico will be looking for revenge from their final defeat when Real visit the Calderon on November 20.
The reverse of that fixture will take place on April 9 at the Santiago Bernabeu. In what will almost certainly be a bittersweet fixture for Atletico, the final game at the Calderon before they move into their new stadium for the start of the 2017–18 season will be against Bilbao. Other highlights from the opening weekend include Valencia hosting Las Palmas, Europa League winners Sevilla taking on Espanyol and Osasuna travelling to Malaga.
Spanish La Liga 2016–17 Fixtures EDT (USA Time), BST (British Time), IST (Indian Time), GMT+0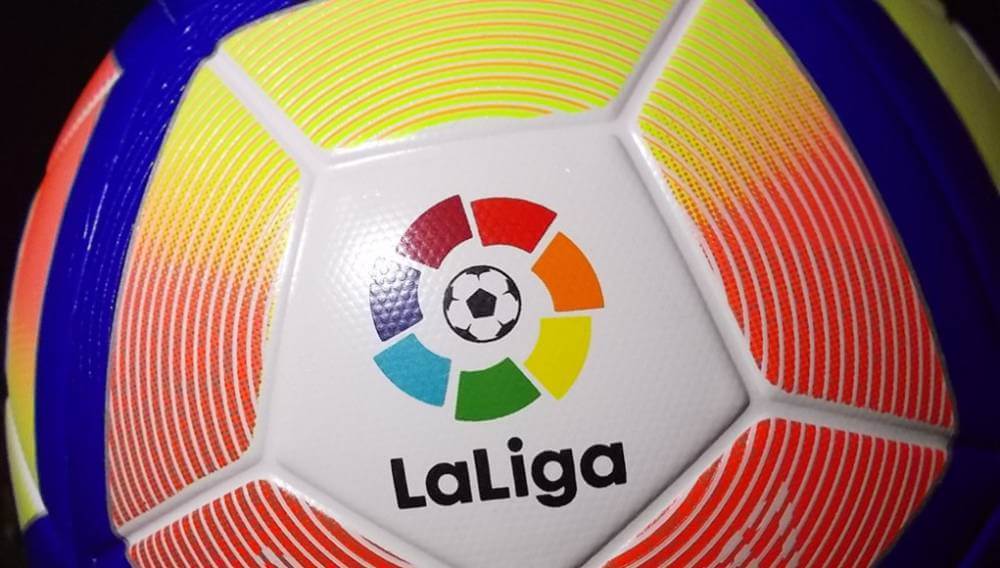 Matchweek 4
19.09. 19:45 (BST)
18:45 (GMT+0), 14:45 (EDT), 0:15 (20.09.16) (IST)

Alaves

Dep. La Coruna

Matchweek 5 from 20.09.16 to 22.09.16
20.09. 19:00 (BST)
18:00 (GMT+0), 14:00 (EDT), 23:30 (IST)

Malaga

Eibar

20.09. 21:00 (BST)
20:00 (GMT+0), 16:00 (EDT), 1:30 (20.09.16) (IST)

Sevilla

Betis

21.09. 19:00 (BST)
18:00 (GMT+0), 14:00 (EDT), 23:30 (IST)

Celta Vigo

Gijon

21.09. 19:00 (BST)
18:00 (GMT+0), 14:00 (EDT), 23:30 (IST)

Real Madrid

Villarreal

21.09. 21:00 (BST)
20:00 (GMT+0), 16:00 (EDT), 1:30 (20.09.16) (IST)

Barcelona

Atl. Madrid

21.09. 21:00 (BST)
20:00 (GMT+0), 16:00 (EDT), 1:30 (20.09.16) (IST)

Granada CF

Ath Bilbao

21.09. 21:00 (BST)
20:00 (GMT+0), 16:00 (EDT), 1:30 (20.09.16) (IST)

Real Sociedad

Las Palmas

22.09. 19:00 (BST)
18:00 (GMT+0), 14:00 (EDT), 23:30 (IST)

Dep. La Coruna

Leganes

22.09. 19:00 (BST)
18:00 (GMT+0), 14:00 (EDT), 23:30 (IST)

Osasuna

Espanyol

22.09. 21:00 (BST)
20:00 (GMT+0), 16:00 (EDT), 1:30 (20.09.16) (IST)

Valencia

Alaves

Matchweek 6 from 23.09.16 to 26.09.16
23.09. 19:45 (BST)
18:45 (GMT+0), 14:45 (EDT), 0:15 (24.09.16) (IST)

Betis

Malaga

24.09. 12:00 (BST)
11:00 (GMT+0), 7:00 (EDT), 16:30 (IST)

Eibar

Real Sociedad

24.09. 15:15 (BST)
14:15 (GMT+0), 10:15 (EDT), 19:45 (IST)

Gijon

Barcelona

24.09. 17:30 (BST)
16:30 (GMT+0), 12:30 (EDT), 22:00 (IST)

Ath Bilbao

Sevilla

24.09. 19:45 (BST)
18:45 (GMT+0), 14:45 (EDT), 0:15 (25.09.16) (IST)

Las Palmas

Real Madrid

25.09. 11:00 (BST)
10:00 (GMT+0), 6:00 (EDT), 15:30 (IST)

Leganes

Valencia

25.09. 15:15 (BST)
14:15 (GMT+0), 10:15 (EDT), 19:45 (IST)

Atl. Madrid

Dep. La Coruna

25.09. 17:30 (BST)
16:30 (GMT+0), 12:30 (EDT), 22:00 (IST)

Villarreal

Osasuna

25.09. 19:45 (BST)
18:45 (GMT+0), 14:45 (EDT), 0:15 (25.09.16) (IST)

Espanyol

Celta Vigo

26.09. 19:45 (BST)
18:45 (GMT+0), 14:45 (EDT), 0:15 (25.09.16) (IST)

Alaves

Granada CF

Matchweek 7 from 30.09.16 to 02.10.16
30.09. 19:45
18:45 (GMT+0), 14:45 (EDT), 0:15 (1.10.16) (IST)

Real Sociedad

Betis

01.10. 12:00
11:00 (GMT+0), 7:00 (EDT), 16:30 (IST)

Granada CF

Leganes

01.10. 15:15
14:15 (GMT+0), 10:15 (EDT), 19:45 (IST)

Sevilla

Alaves

01.10. 17:30
16:30 (GMT+0), 12:30 (EDT), 22:00 (IST)

Osasuna

Las Palmas

01.10. 19:45
18:45 (GMT+0), 14:45 (EDT), 0:15 (2.10.16) (IST)

Dep. La Coruna

Gijon

02.10. 11:00
10:00 (GMT+0), 6:00 (EDT), 17:30 (IST)

Valencia

Atl. Madrid

02.10. 15:15
14:15 (GMT+0), 10:15 (EDT), 19:45 (IST)

Real Madrid

Eibar

02.10. 17:30
16:30 (GMT+0), 12:30 (EDT), 22:00 (IST)

Espanyol

Villarreal

02.10. 17:30
16:30 (GMT+0), 12:30 (EDT), 22:00 (IST)

Malaga

Ath Bilbao

02.10. 19:45
18:45 (GMT+0), 14:45 (EDT), 0:15 (3.10.16) (IST)

Celta Vigo

Barcelona

Matchweek 8 from 14.10.16 to 17.10.16
14.10. 19:45
18:45 (GMT+0), 14:45 (EDT), 0:15 (15.10.16) (IST)

Las Palmas

Espanyol

15.10. 12:00
11:00 (GMT+0), 7:00 (EDT), 16:30 (IST)

Leganes

Sevilla

15.10. 15:15
14:15 (GMT+0), 10:15 (EDT), 19:45 (IST)

Barcelona

Dep. La Coruna

15.10. 17:30
16:30 (GMT+0), 12:30 (EDT), 22:00 (IST)

Atl. Madrid

Granada CF

15.10. 19:45
18:45 (GMT+0), 14:45 (EDT), 0:15 (16.10.16) (IST)

Betis

Real Madrid

16.10. 11:00
10:00 (GMT+0), 6:00 (EDT), 17:30 (IST)

Alaves

Malaga

16.10. 15:15
14:15 (GMT+0), 10:15 (EDT), 19:45 (IST)

Ath Bilbao

Real Sociedad

16.10. 17:30
16:30 (GMT+0), 12:30 (EDT), 22:00 (IST)

Gijon

Valencia

16.10. 19:45
18:45 (GMT+0), 14:45 (EDT), 0:15 (17.10.16) (IST)

Villarreal

Celta Vigo

17.10. 19:45
18:45 (GMT+0), 14:45 (EDT), 0:15 (18.10.16) (IST)

Eibar

Osasuna

Matchweek 9 from 21.10.16 to 23.10.16
23.10. 19:00

Celta Vigo

Dep. La Coruna

23.10. 19:00

Espanyol

Eibar

23.10. 19:00

Granada CF

Gijon

23.10. 19:00

Malaga

Leganes

23.10. 19:00

Osasuna

Betis

23.10. 19:45 BST
18:45 (GMT+0), 14:45 (EDT), 0:15 (24.10.16) (IST)

Real Madrid

Ath Bilbao

23.10. 19:00

Real Sociedad

Alaves

23.10. 19:00

Sevilla

Atl. Madrid

22.10. 15:15 BST
14:15 (GMT+0), 10:15 (EDT), 20:45 (IST)

Valencia

Barcelona

23.10. 19:00

Villarreal

Las Palmas

Matchweek 10
29.10. 15:15 BST
14:15 (GMT+0), 10:15 (EDT), 19:45 (IST)

Alaves

Real Madrid

30.10. 20:00

Ath Bilbao

Osasuna

30.10. 20:00

Atl. Madrid

Malaga

29.10. 19:45
18:45 (GMT+0), 14:45 (EDT), 0:15 (30.10.16) (IST)

Barcelona

Granada CF

30.10. 20:00

Betis

Espanyol

30.10. 20:00

Dep. La Coruna

Valencia

30.10. 20:00

Eibar

Villarreal

30.10. 20:00

Gijon

Sevilla

30.10. 20:00

Las Palmas

Celta Vigo

30.10. 20:00

Leganes

Real Sociedad

Matchweek 11
06.11. 20:00

Celta Vigo

Valencia

06.11. 20:00

Espanyol

Ath Bilbao

06.11. 20:00

Granada CF

Dep. La Coruna

06.11. 20:00

Las Palmas

Eibar

06.11. 20:00

Malaga

Gijon

06.11. 20:00

Osasuna

Alaves

06.11. 20:00

Real Madrid

Leganes

06.11. 20:00

Real Sociedad

Atl. Madrid

06.11. 20:00

Sevilla

Barcelona

06.11. 20:00

Villarreal

Betis

Matchweek 12 from 18.11.16 to 21.11.16
20.11. 20:00

Alaves

Espanyol

20.11. 20:00

Ath Bilbao

Villarreal

19.11. 19:45 UK
14:45 EST, 1:15 IST (November 20th)

Atl. Madrid

Real Madrid

19.11. 15:15 UK
10:00 EST, 20:45 IST

Barcelona

Malaga

20.11. 20:00

Betis

Las Palmas

20.11. 20:00

Dep. La Coruna

Sevilla

20.11. 20:00

Eibar

Celta Vigo

20.11. 20:00

Gijon

Real Sociedad

20.11. 20:00

Leganes

Osasuna

20.11. 20:00

Valencia

Granada CF

Matchweek 13
27.11. 20:00

Celta Vigo

Granada CF

27.11. 20:00

Eibar

Betis

27.11. 20:00

Espanyol

Leganes

27.11. 20:00

Las Palmas

Ath Bilbao

27.11. 20:00

Malaga

Dep. La Coruna

27.11. 20:00

Osasuna

Atl. Madrid

27.11. 20:00

Real Madrid

Gijon

27.11. 20:00

Real Sociedad

Barcelona

27.11. 20:00

Sevilla

Valencia

27.11. 20:00

Villarreal

Alaves

Matchweek 14
04.12. 20:00

Alaves

Las Palmas

04.12. 20:00

Ath Bilbao

Eibar

04.12. 20:00

Atl. Madrid

Espanyol

04.12. 20:00

Barcelona

Real Madrid

04.12. 20:00

Betis

Celta Vigo

04.12. 20:00

Dep. La Coruna

Real Sociedad

04.12. 20:00

Gijon

Osasuna

04.12. 20:00

Granada CF

Sevilla

04.12. 20:00

Leganes

Villarreal

04.12. 20:00

Valencia

Malaga

Matchweek 15
11.12. 20:00

Betis

Ath Bilbao

11.12. 20:00

Celta Vigo

Sevilla

11.12. 20:00

Eibar

Alaves

11.12. 20:00

Espanyol

Gijon

11.12. 20:00

Las Palmas

Leganes

11.12. 20:00

Malaga

Granada CF

11.12. 20:00

Osasuna

Barcelona

11.12. 20:00

Real Madrid

Dep. La Coruna

11.12. 20:00

Real Sociedad

Valencia

11.12. 20:00

Villarreal

Atl. Madrid

Matchweek 16
18.12. 20:00

Alaves

Betis

18.12. 20:00

Ath Bilbao

Celta Vigo

18.12. 20:00

Atl. Madrid

Las Palmas

18.12. 20:00

Barcelona

Espanyol

18.12. 20:00

Dep. La Coruna

Osasuna

18.12. 20:00

Gijon

Villarreal

18.12. 20:00

Granada CF

Real Sociedad

18.12. 20:00

Leganes

Eibar

18.12. 20:00

Sevilla

Malaga

18.12. 20:00

Valencia

Real Madrid

Matchweek 17
08.01. 20:00

Ath Bilbao

Alaves

08.01. 20:00

Betis

Leganes

08.01. 20:00

Celta Vigo

Malaga

08.01. 20:00

Eibar

Atl. Madrid

08.01. 20:00

Espanyol

Dep. La Coruna

08.01. 20:00

Las Palmas

Gijon

08.01. 20:00

Osasuna

Valencia

08.01. 20:00

Real Madrid

Granada CF

08.01. 20:00

Real Sociedad

Sevilla

08.01. 20:00

Villarreal

Barcelona

Matchweek 18
15.01. 20:00

Atl. Madrid

Betis

15.01. 20:00

Barcelona

Las Palmas

15.01. 20:00

Celta Vigo

Alaves

15.01. 20:00

Dep. La Coruna

Villarreal

15.01. 20:00

Gijon

Eibar

15.01. 20:00

Granada CF

Osasuna

15.01. 20:00

Leganes

Ath Bilbao

15.01. 20:00

Malaga

Real Sociedad

15.01. 20:00

Sevilla

Real Madrid

15.01. 20:00

Valencia

Espanyol

Matchweek 19
22.01. 20:00

Alaves

Leganes

22.01. 20:00

Ath Bilbao

Atl. Madrid

22.01. 20:00

Betis

Gijon

22.01. 20:00

Eibar

Barcelona

22.01. 20:00

Espanyol

Granada CF

22.01. 20:00

Las Palmas

Dep. La Coruna

22.01. 20:00

Osasuna

Sevilla

22.01. 20:00

Real Madrid

Malaga

22.01. 20:00

Real Sociedad

Celta Vigo

22.01. 20:00

Villarreal

Valencia

Matchweek 20
29.01. 20:00

Alaves

Atl. Madrid

29.01. 20:00

Ath Bilbao

Gijon

29.01. 20:00

Betis

Barcelona

29.01. 20:00

Eibar

Dep. La Coruna

29.01. 20:00

Espanyol

Sevilla

29.01. 20:00

Las Palmas

Valencia

29.01. 20:00

Leganes

Celta Vigo

29.01. 20:00

Osasuna

Malaga

29.01. 20:00

Real Madrid

Real Sociedad

29.01. 20:00

Villarreal

Granada CF

Matchweek 21
05.02. 20:00

Atl. Madrid

Leganes

05.02. 20:00

Barcelona

Ath Bilbao

05.02. 20:00

Celta Vigo

Real Madrid

05.02. 20:00

Dep. La Coruna

Betis

05.02. 20:00

Gijon

Alaves

05.02. 20:00

Granada CF

Las Palmas

05.02. 20:00

Malaga

Espanyol

05.02. 20:00

Real Sociedad

Osasuna

05.02. 20:00

Sevilla

Villarreal

05.02. 20:00

Valencia

Eibar

Matchweek 22
12.02. 20:00

Alaves

Barcelona

12.02. 20:00

Ath Bilbao

Dep. La Coruna

12.02. 20:00

Atl. Madrid

Celta Vigo

12.02. 20:00

Betis

Valencia

12.02. 20:00

Eibar

Granada CF

12.02. 20:00

Espanyol

Real Sociedad

12.02. 20:00

Las Palmas

Sevilla

12.02. 20:00

Leganes

Gijon

12.02. 20:00

Osasuna

Real Madrid

12.02. 20:00

Villarreal

Malaga

Matchweek 23
19.02. 20:00

Barcelona

Leganes

19.02. 20:00

Celta Vigo

Osasuna

19.02. 20:00

Dep. La Coruna

Alaves

19.02. 20:00

Gijon

Atl. Madrid

19.02. 20:00

Granada CF

Betis

19.02. 20:00

Malaga

Las Palmas

19.02. 20:00

Real Madrid

Espanyol

19.02. 20:00

Real Sociedad

Villarreal

19.02. 20:00

Sevilla

Eibar

19.02. 20:00

Valencia

Ath Bilbao

Matchweek 24
26.02. 20:00

Alaves

Valencia

26.02. 20:00

Ath Bilbao

Granada CF

26.02. 20:00

Atl. Madrid

Barcelona

26.02. 20:00

Betis

Sevilla

26.02. 20:00

Eibar

Malaga

26.02. 20:00

Espanyol

Osasuna

26.02. 20:00

Gijon

Celta Vigo

26.02. 20:00

Las Palmas

Real Sociedad

26.02. 20:00

Leganes

Dep. La Coruna

26.02. 20:00

Villarreal

Real Madrid

Matchweek 25
01.03. 20:00

Barcelona

Gijon

01.03. 20:00

Celta Vigo

Espanyol

01.03. 20:00

Dep. La Coruna

Atl. Madrid

01.03. 20:00

Granada CF

Alaves

01.03. 20:00

Malaga

Betis

01.03. 20:00

Osasuna

Villarreal

01.03. 20:00

Real Madrid

Las Palmas

01.03. 20:00

Real Sociedad

Eibar

01.03. 20:00

Sevilla

Ath Bilbao

01.03. 20:00

Valencia

Leganes

Matchweek 26
05.03. 20:00

Alaves

Sevilla

05.03. 20:00

Ath Bilbao

Malaga

05.03. 20:00

Atl. Madrid

Valencia

05.03. 20:00

Barcelona

Celta Vigo

05.03. 20:00

Betis

Real Sociedad

05.03. 20:00

Eibar

Real Madrid

05.03. 20:00

Gijon

Dep. La Coruna

05.03. 20:00

Las Palmas

Osasuna

05.03. 20:00

Leganes

Granada CF

05.03. 20:00

Villarreal

Espanyol

Matchweek 27
12.03. 20:00

Celta Vigo

Villarreal

12.03. 20:00

Dep. La Coruna

Barcelona

12.03. 20:00

Espanyol

Las Palmas

12.03. 20:00

Granada CF

Atl. Madrid

12.03. 20:00

Malaga

Alaves

12.03. 20:00

Osasuna

Eibar

12.03. 20:00

Real Madrid

Betis

12.03. 20:00

Real Sociedad

Ath Bilbao

12.03. 20:00

Sevilla

Leganes

12.03. 20:00

Valencia

Gijon

Matchweek 28
19.03. 20:00

Alaves

Real Sociedad

19.03. 20:00

Ath Bilbao

Real Madrid

19.03. 20:00

Atl. Madrid

Sevilla

19.03. 20:00

Barcelona

Valencia

19.03. 20:00

Betis

Osasuna

19.03. 20:00

Dep. La Coruna

Celta Vigo

19.03. 20:00

Eibar

Espanyol

19.03. 20:00

Gijon

Granada CF

19.03. 20:00

Las Palmas

Villarreal

19.03. 20:00

Leganes

Malaga

Matchweek 29
02.04. 19:00

Celta Vigo

Las Palmas

02.04. 19:00

Espanyol

Betis

02.04. 19:00

Granada CF

Barcelona

02.04. 19:00

Malaga

Atl. Madrid

02.04. 19:00

Osasuna

Ath Bilbao

02.04. 19:00

Real Madrid

Alaves

02.04. 19:00

Real Sociedad

Leganes

02.04. 19:00

Sevilla

Gijon

02.04. 19:00

Valencia

Dep. La Coruna

02.04. 19:00

Villarreal

Eibar

Matchweek 30
05.04. 19:00

Alaves

Osasuna

05.04. 19:00

Ath Bilbao

Espanyol

05.04. 19:00

Atl. Madrid

Real Sociedad

05.04. 19:00

Barcelona

Sevilla

05.04. 19:00

Betis

Villarreal

05.04. 19:00

Dep. La Coruna

Granada CF

05.04. 19:00

Eibar

Las Palmas

05.04. 19:00

Gijon

Malaga

05.04. 19:00

Leganes

Real Madrid

05.04. 19:00

Valencia

Celta Vigo

Matchweek 31
09.04. 19:00

Celta Vigo

Eibar

09.04. 19:00

Espanyol

Alaves

09.04. 19:00

Granada CF

Valencia

09.04. 19:00

Las Palmas

Betis

09.04. 19:00

Malaga

Barcelona

09.04. 19:00

Osasuna

Leganes

09.04. 19:00

Real Madrid

Atl. Madrid

09.04. 19:00

Real Sociedad

Gijon

09.04. 19:00

Sevilla

Dep. La Coruna

09.04. 19:00

Villarreal

Ath Bilbao

Matchweek 32
16.04. 19:00

Alaves

Villarreal

16.04. 19:00

Ath Bilbao

Las Palmas

16.04. 19:00

Atl. Madrid

Osasuna

16.04. 19:00

Barcelona

Real Sociedad

16.04. 19:00

Betis

Eibar

16.04. 19:00

Dep. La Coruna

Malaga

16.04. 19:00

Gijon

Real Madrid

16.04. 19:00

Granada CF

Celta Vigo

16.04. 19:00

Leganes

Espanyol

16.04. 19:00

Valencia

Sevilla

Matchweek 33
23.04. 19:00

Celta Vigo

Betis

23.04. 19:00

Eibar

Ath Bilbao

23.04. 19:00

Espanyol

Atl. Madrid

23.04. 19:00

Las Palmas

Alaves

23.04. 19:00

Malaga

Valencia

23.04. 19:00

Osasuna

Gijon

23.04. 19:00

Real Madrid

Barcelona

23.04. 19:00

Real Sociedad

Dep. La Coruna

23.04. 19:00

Sevilla

Granada CF

23.04. 19:00

Villarreal

Leganes

Matchweek 34
26.04. 19:00

Alaves

Eibar

26.04. 19:00

Ath Bilbao

Betis

26.04. 19:00

Atl. Madrid

Villarreal

26.04. 19:00

Barcelona

Osasuna

26.04. 19:00

Dep. La Coruna

Real Madrid

26.04. 19:00

Gijon

Espanyol

26.04. 19:00

Granada CF

Malaga

26.04. 19:00

Leganes

Las Palmas

26.04. 19:00

Sevilla

Celta Vigo

26.04. 19:00

Valencia

Real Sociedad

Matchweek 35
30.04. 19:00

Betis

Alaves

30.04. 19:00

Celta Vigo

Ath Bilbao

30.04. 19:00

Eibar

Leganes

30.04. 19:00

Espanyol

Barcelona

30.04. 19:00

Las Palmas

Atl. Madrid

30.04. 19:00

Malaga

Sevilla

30.04. 19:00

Osasuna

Dep. La Coruna

30.04. 19:00

Real Madrid

Valencia

30.04. 19:00

Real Sociedad

Granada CF

30.04. 19:00

Villarreal

Gijon

Matchweek 36
07.05. 19:00

Alaves

Ath Bilbao

07.05. 19:00

Atl. Madrid

Eibar

07.05. 19:00

Barcelona

Villarreal

07.05. 19:00

Dep. La Coruna

Espanyol

07.05. 19:00

Gijon

Las Palmas

07.05. 19:00

Granada CF

Real Madrid

07.05. 19:00

Leganes

Betis

07.05. 19:00

Malaga

Celta Vigo

07.05. 19:00

Sevilla

Real Sociedad

07.05. 19:00

Valencia

Osasuna

Matchweek 37
14.05. 19:00

Alaves

Celta Vigo

14.05. 19:00

Ath Bilbao

Leganes

14.05. 19:00

Betis

Atl. Madrid

14.05. 19:00

Eibar

Gijon

14.05. 19:00

Espanyol

Valencia

14.05. 19:00

Las Palmas

Barcelona

14.05. 19:00

Osasuna

Granada CF

14.05. 19:00

Real Madrid

Sevilla

14.05. 19:00

Real Sociedad

Malaga

14.05. 19:00

Villarreal

Dep. La Coruna

Matchweek 38
21.05. 19:00

Atl. Madrid

Ath Bilbao

21.05. 19:00

Barcelona

Eibar

21.05. 19:00

Celta Vigo

Real Sociedad

21.05. 19:00

Dep. La Coruna

Las Palmas

21.05. 19:00

Gijon

Betis

21.05. 19:00

Granada CF

Espanyol

21.05. 19:00

Leganes

Alaves

21.05. 19:00

Malaga

Real Madrid

21.05. 19:00

Sevilla

Osasuna

21.05. 19:00

Valencia

Villarreal