Adidas has unveiled new uniform kit for Spain National Football Team. The current world trophy holders will now arrive in new football kit. The whole design of this kit is designed by World top brand Adidas. Before this launch some changes were made on their uniform for the confederation cup tournament. This time some other changes are done in this kit. What are the new changes in this uniform, here is your answer.
Spain New Football Home Kit For World Cup 2014
Adidas has used color combinations of Red & Gold. The color of both Jersey & Shorts is made red color with black strips from neck to waist. On shoulders, three strips are made from shoulders to the end of the arms. At the left chest, a logo of FIFA World Champions 2010 is marked in golden color. On the right side of Jersey, the logo of Spain National Football Team is marked. The logo of Adidas is marked at the center just below neck in golden color. In this new kit, the Jersey numbers are also punched in front. The Shorts are designed with combination of red & golden color. At the end of right side of short, Spain logo is designed & on left side, Adidas trademark of 3 stripes is designed in golden color.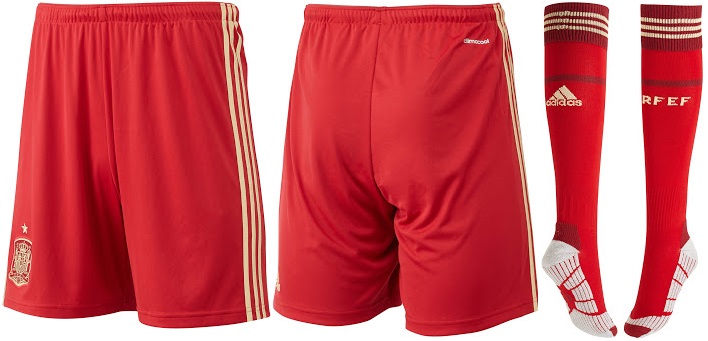 Spain New Away Kit For World Cup 2014 The actual design of away kit is not unveiled right now. But it is expected that away kit might be in in combination of black & radium. In away kit, Black color might be used instead of Red & radium in place of gold color. All the stripes might be appear in garish yellow color.
Spain New Goalkeeper Home Kit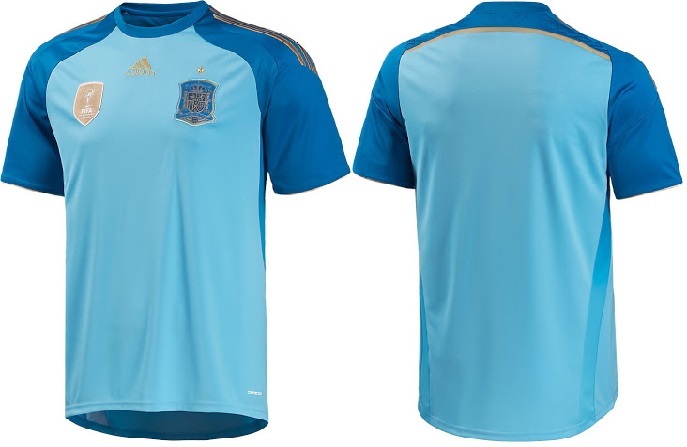 The Goalkeeper of Spain will be appear in Light blue color jersey. But the arms of goalkeeper jersey are designed in dark blue color. Rest of the design including Spain Logo, Adidas trademark are made in golden color. At the launch of this uniform kit, David Villa, Sergio Ramos, Iker Casillas were one of the models of of new uniform. http://youtu.be/LXv7TDlB5GA