Home and away kits of Euro champions Spain have been released by Adidas
The home and away jersey of defending European champions Spain have been released by their kit supplier Adidas. On 10th November 2015, the German based brand unveiled the new kits that will be worn by Spanish players during the Euro 2016 championship. With minor changes, the new jerseys and shorts are looking impressive. So take a look on the new kits of Spain.
Spain Euro 2016 Home Kits
Jersey: The home kits of Spain football team reminds the kits of 2010. The blue and red color combination of La Roja marks a special appearance. It introduces a vibrant design with a different front panel graphic design. Read also: Euro 2016 mascot name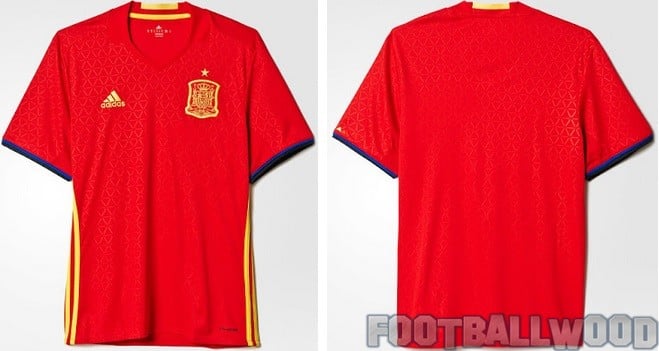 Home jersey is in red appearance on which yellow applications are there just like kit used during 2010 FIFA World Cup. This time, no stripe has been designed on the shoulders, but the three vertical stripes on the sides of t‑shirt are featured in yellow appearance. Read also: HD Wallpapers of Euro 2016 Spain's crest is printed on the left chest, while the trademark logo of Adidas is on right side. As FIFA doesn't allows the banner of Sponsor company on the front of jersey, so there is no application below these crests. A modern v‑collar, based on the Adidas Condivo 2016–17 team-wear shirt is giving great appearance. Shorts and Socks: Shorts of Spain 2016 Euro kits are in royal blue. It is similar to the traditional combination that was used during the World Cup of 2010. Just likes jersey, three stripes are marked from waist to bottom on the sides of shorts.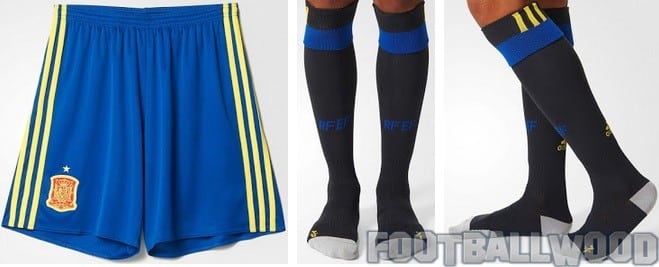 Socks are in navy blue with royal blue applications on it. You can see some text "RFEF [Royal Spanish Football Federation]" and trademark logo on socks.
Spain Euro 2016 Away Kit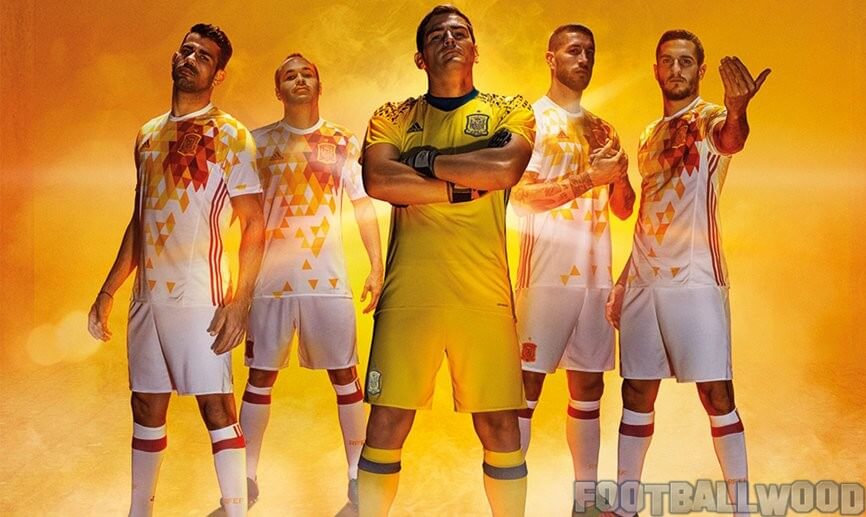 Jersey: The new away kit of Spain for the European championship is completely different from the previous kits. Spain's 2016 away kit is in white that is featured with revolutionary pattern. It introduces a stunning design in red and yellow triangle patterns which are printed on the front of jersey.
Classical white collar looks great. Colors of Spanish flag are visible on the inside as well on the outside of jersey. Crests are on same side. On the sides of jersey, there are three red stripes which are making jersey looks more interesting. Once again, no stripes on shoulder. Shorts and socks: Away shorts are completely white except the crest of Spanish football team. Not even a single line on shorts.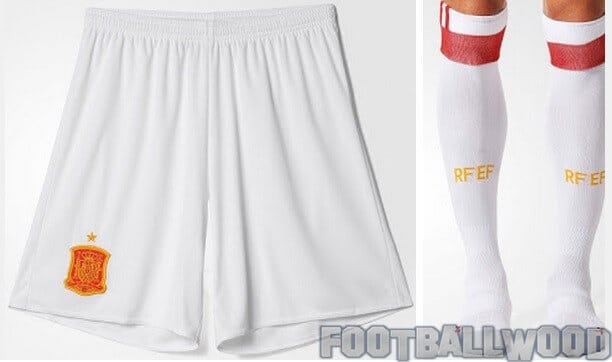 So these are the new kits of Spain for Euro 2016. Did you like the new jersey and shorts of Spanish football team?