Real Madrid's star defender Sergio Ramos has rejected the renewal contract of Real Madrid which is pointing that he could move to a new club. According to Cuatro, the defender met President Florentino Perez but was disappointed to find out his new salary would be lower than not only Cristiano Ronaldo's, but also lower than that of Gareth Bale, Karim Benzema and the goal keeper Iker Casillas.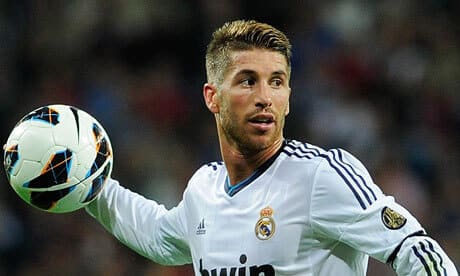 The 28 year old has been a vital member of the team squad and was instrumental in Madrid winning the 'La Decima' last season, as well as being chosen in the FIFA XI of 2014 and expected to be rewarded accordingly.
Ramos, whose current deal expires in the year of 2017, has indicated that he would like to retire at Madrid while the club are keen to extend his agreement, but there appears to be a major stumbling block surrounding what he is asking for and what Los Blancos are willing to put on the table.
It is understood that Ronaldo is understandably the highest earner at the Santiago Bernabeu on €17m plus bonuses, followed by Gareth Bale on €11m, Karim Benzema on €8m and Iker Casillas on €4m.
Big clubs across from Europe which includes Manchester United, Man City, Chelsea and some other clubs are desperate to have him with their team squad. The defender have won every club title with the club with his worth lower than the players mentioned above.
If Real Madrid really wants to keep him at Santiago Bernabeu, then it is expected that they would like to pay more. Otherwise it is clear that Ramos is not happy with the proposal that Real Madrid recently offered him.
Should Real Madrid offer him more or they need to sign a new defender who can fill the gap of Sergio Ramos?