Football is the game which is not popular among boys. This is proved by 15 years old Sumiya Ravi who has just passed his 10th class with brilliant CGPA. Saumiya was first noticed in Indian U‑16 women team in the Asian Football Confederation in Sri Lanka Last year. Also represented the country in 2000 AFC qualifiers in Jordon. Has a silver medal each from CBSE school national tournament held in 2011 and 2012. In the later edition, she was adjudged player of the tournament. She had also won silver in NCC National Subroto Cup in Bhopal in 2012.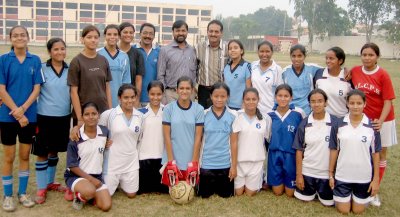 Soumiya Ravi
Captain

U‑16 Women Football Indian team Sri Lankan tournament of 2012.

Age

15 Years

Residence City

Chandigarh

Sports

Football

Position

Midfielder

Current Studying in
11th Class
DON'T MISS: Bajaj Allianz Football Camp in India
Tour of AFC Sri Lanka Tournament
The Sri Lankan tournament was Soumiya's 2nd international outing after 2010 AFC U‑16 qualifiers in Jordan. "The experience of leading the team was great. Representing the country is always a matter of my locality. But it was no more than a pas time until I was selected in the school team for the inter school tournament in 2008," said by Soumiya Ravi. The best player award in the same tournament prompted Soumiya to take the sport more seriously: "As a result, I started training at DAV school‑8 under the guidance of Narendra Thapa. The next year, the 1st high point of my career came as I was selected in the city team for AIFF National Championship." Since 2010, Soumiya is travelling at the Chandigarh Football Academy, under head coach Harjinder Singh. DON'T MISS: Jaspreet & Sharika Girls in Boys Football Team Giving the credit of success to her parents, Soumiya said, "They have never objected about me playing football. Initially they were not very sure that I would go so far. Now they lap up my achievements with greater pleasure."
Champion in Study also
She is not champion only in football but winner in study also. This is because when you will read this article further you will definitely get a shock. She has scored 9.8 CGPA (Cumulative Grade Point Average) in class 10th examination. The midfielder had set a new record for Indian youth.