Adidas Unveiled new Russia Euro 2016 for home and away matches for European Championship 2016
German sports kit supplier Adidas has released the home as well as away kits of Russia for the upcoming big football even Euro 2016. The home kits are in red while the away jersey is designed in white appearance. Take a close look on the new kits of Russia with images and photos below.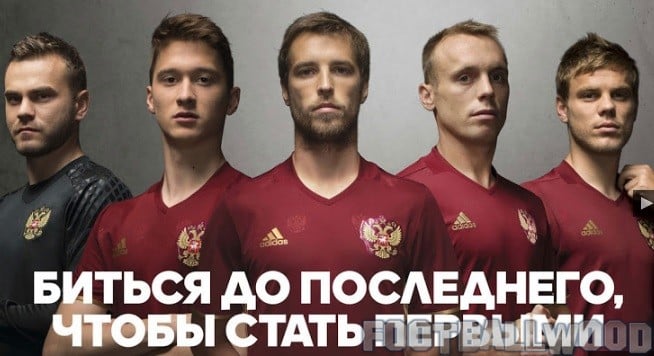 Russia Euro 2016 Home Kits
Jersey: New home jersey of Russia for European championship 2016 is mainly designed in red. It is also featured with an all over print pattern of the Russian Football Union badge. As you can see at the front and back of jersey, team's crest is marked on home jersey. You may like to read more about Euro 2016 kits.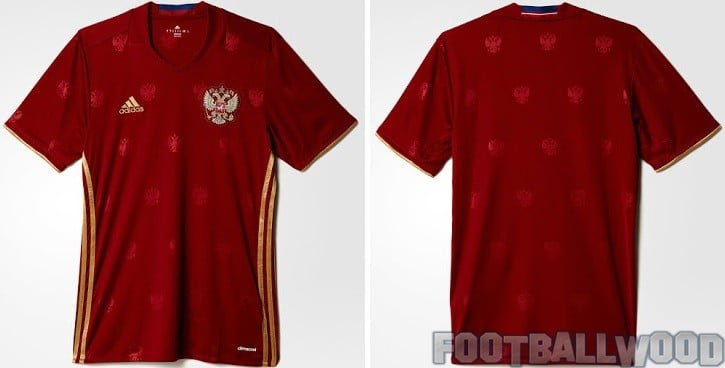 A major crest is drawn on left chest with a golden Adidas trademark logo on the right chest. We have seen that Adidas has changed the position of three stripes in most kits. So the three golden stripes are now on the sides of jersey in golden look.
Collars are in V‑shape in red with Russian flag featured at the back of collar. Sleeves cuffs are provided with golden ends that perfectly matches the home jersey of Russia. Shorts and socks: Home shorts are red with combination of golden color. Team badge is printed at the bottom of shorts. Home socks are also made in red and golden. At the front of socks name "RUSSIA" is written in golden appearance.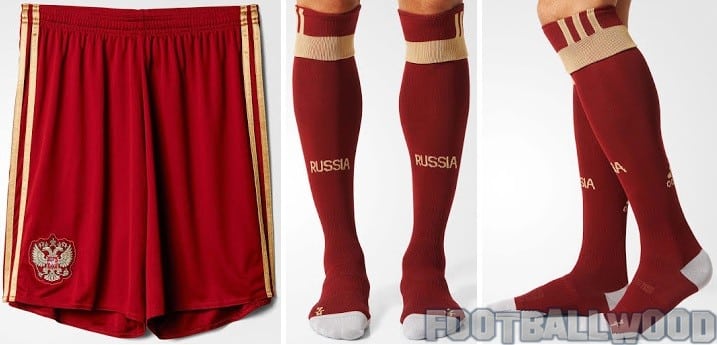 Russia Euro 2016 Away Kits
Jersey: The away jersey of Russia for Euro 2016 is designed in white with red applications. In short, red color of home jersey has been replaced by white. On home jersey, Adidas designed a very large badge of Russia national football team in light black which is looking quite impressive.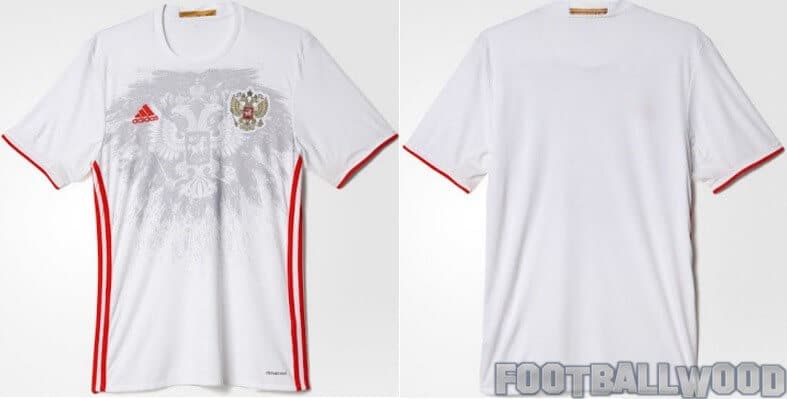 Golden stripes are replaced by red on new away jersey of Russia 2016. Gold trim is present on the inside of the crew-neck collar of the new Russia Euro 2016 away kit, whereas the Russian flag is present on the outside of the neckline. Shorts: Away shorts are in sky blue appearance without any single stripe. A golden badge of football association is also there. Red socks featured with white and blue applications are looking great.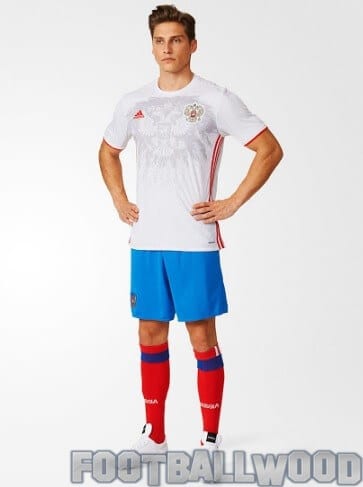 Russia are in Group B of Euro 2016 with England Wales and Slovakia. Their first game is against the British team which will be played on 11th of June 2016 at Stade Velodrome, Marseille. So these are the new home and away kits of Russia for Euro 2016. Did you like these new kits? Have you say in the comment box below.