This pages covers the biography of Robert Lewandowski which includes his salary with personal life and awards. He is Polish footballer who players for Germany's most successful team Bayern Munich as a striker. The player moved to FC Bayern from rival team Borussia Dortmund in 2014. He begun his senior career Zunicz Pruszkow and thereafter moved to Lech Poznan before joining BVB. Read the complete biography of Lewandowski right over here.
Early Life Of Robert Lewandowski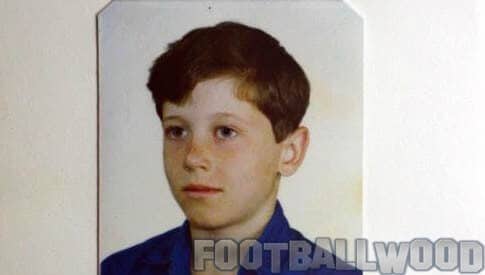 He was born on 21st of August 1988 in Warsaw Poland. He belongs from a family of Sportsperson. His father Krystof was a known as the champion of Judo. It would be correct to say that some football skills are inherited to Robert Lewandowski from his father. His mother Iwona was a professional volleyball player. So Robert got huge support in focusing football. It is a well known fact that his parents kept his name simple so that media can others can easily pronounce his name. That's all we know about the early life of Bundesliga's fastest hat-trick scorer.
Club Career of Robert Lewandowski
As a teenage, he begun his football career at Varsovia. For this club, he played for almost seven years. After Varsovia, he moved to Delta Warsaw. Season 2006-07 changed the gear of his life as he was the top goal scorer of Poland's third division in which he netted 15 goals and helped his team in promotion. Later he became the top goal scorer of Poland's second division, scoring 21 goals. Lech Poznan career: In June 2008, Spanish football club Sporting Gijon which was promoted to top division after 10 years rejected Robert Lewandowski. He then signed for Lech Poznan. In his debut match against Khazar Lenkoran, he scored the winning goal for his team. While playing for Lech Poznan, he netted 18 goals and helped his team to win the championship of 2009-10. His performance was noticed by some top football clubs in which Borussia Dortmund took highest interest. Borussia Dortmund career: In June 2010, Robert Lewandowski signed a four year contract deal with BVB. The deal was said to be done at 4.5 million Euros. Against Schalke 04, he scored his first goal for Borussia Dortmund in the Revierderby. Lucas Barrios, the footballer of BVB got injured Lewandowski replaced him. The Polish footballer did a fantastic job and scored two goals against SV Sandhausen in DFB Pokal championship. On 1st October 2011, hat-trick and an assist from Robert Lewandowski helped Dortmund to win over FC Augsburg. BVB defeated Hamburger SV by 5–1 and joined Bayern Munich at top spot in Bundesliga 2011-12 standings. On 11th April 2012, Lewandowski scored the only winning goal and took six points lead against FC Bayern. In last match of 2011-12 season, he scored two goals and defeated Freiburg by 4–0 and won the Bundesliga title. He was the top goal scorer of Bundesliga 2011–13 During same season, he turned out as nightmare for FC Bayern and scored hat-trick in the final of DFB Pokal 2011-12. The final ended with a 5–2 win against Bayern Munich and won another title in that season. Dortmund won two titles in season 2011-12 for the first time in history. Again, he was the top goal scorer in DFB Pokal 2011-12. Bayern Munich career: The Polish international signed for club rivals FC Bayern on 9th July 2014. For Bayern Munchen, Lewandowski played the first official game against his former side BVB in which FC Bayern were defeated at the hands of Dortmund by 2–0. On 30th August 2014, he scored the first ever goal as a Bavarian against Schalke 04 in second match of Bundesliga 2014–15. During the Bundesliga season 2015–16, he set up a new Bundesliga record. Lewandowski came on as a substitute when his side was trailing against Wolfsburg by 0–1 and netted five goals in 9 minutes. This is the fastest record of any Bundesliga player.
Personal Life of Robert Lewandowski
Lewandowski fell in love with Anna Stachurska, a Karate expert. Media play a huge role in exposing their relation and soon they got married. Being a sportsperson, he married to a sportsperson. On 22 June 2013, he got married to his dream girl who won the bronze medal during 2009 Karate World Cup.
Salary Of Lewandowski @ Bayern Munich

Salary In 2014: 9 million Euro
He is one of the highest paid footballer of Bundesliga. The player is earning an approximate amount of €160,000 per week at Bayern Munich. In 2014, he annual salary was calculated as €9 million.
Awards Won By Robert Lewandowski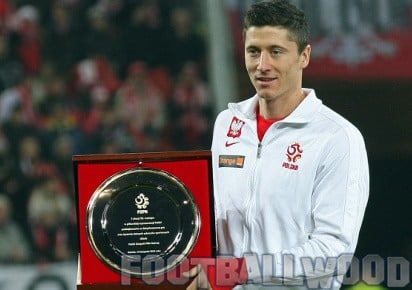 Club Awards

Team

Award

Lech Poznan

Ekstraklasa 2009-10

Polish Cup 2008-09

Polish Super Cup 2009

Borussia Dortmund

Bundesliga 2010-11, 2011-12

DFB Pokal 2011-12

DFL Supercup: 2013

UEFA Champions League runners-up 2012–13

Bayern Munich

Bundesliga 2014–15

Individual Awards

II Liga Top Goalscorer: 2006-07

I Liga Top Goalscorer: 2007-08

Ekstraklasa best player: 2009

Ekstraklasa top goalscorer: 2009-10

Polish footballer of the year: 2008

DFB Pokal top goalscorer: 2011, 2012, 2013, 2014

DFB Pokal top goalscorer: 2011-12

Bundesliga top goal scorer: 2013–14