Head to Head stats comparison of Real Madrid vs Schalke 04 with all matches results in history.
Here is the list of all matches played between Spanish club Real Madrid and German club Schalke 04. The Spanish club was founded on 6th March 1902 and is currently managed by the Italian manager Carlo Ancelotti. Estadio Santiago Bernabeu is the home ground of club which is known for having seating capacity of 81,044 spectators. FC Schalke 04 are also called as The Miners as their nickname. This football club was founded on 4th May 1904. Its home ground is Veltins Arena which is located in Gelsenkirchen. Roberto Di Matteo is the current manager of the club.
Real Madrid vs Schalke 04 Head To Head Matches
Real Madrid
FC Schalke 04
Matches

2

2

Won

2

0

Loss

0

2

Draws

0

0

Goals Scored

9

2

Goals Conceded

2

9

League Titles

32 [La Liga]

7 [Bundesliga]

UCL Titles

10

-

UEFA Rank

1

7

List last updated

: 17 Feb 2015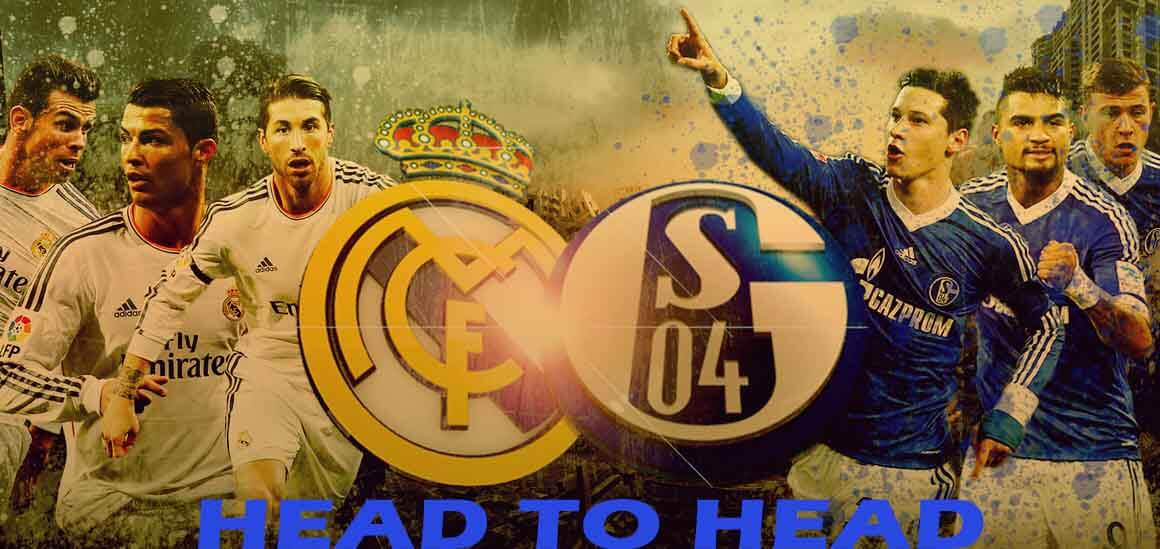 So far only 2 head to head matches between these two teams have been recorded. Both games were played in UEFA Champions League competition during season of 2013–14. In those 2 games, Real Madrid won both of them with an aggregate score of 9–2. This means the vikings have 100 percent record against Schalke 04. Check out the result of all matches played between these two teams in history of UEFA Champions League history.
Real Madrid vs Schalke 04 All Matches In History
| | | |
| --- | --- | --- |
| Date | Real Madrid | FC Schalke 04 |
| 10/03/2015 | TBD | TBD |
| 18/02/2015 | TBD | TBD |
| 18/03/2014 | 3 | 1 |
| 26/02/2015 | 6 | 1 |
Awards of Real Madrid and Schalke 04
Real Madrid: The vikings have record of winning most La Liga seasons [32]. They have also won most number of Champions League titles [10]. The club was awarded with the recognition of "FIFA Club of the 20th Century" on 23rd December, and named "Best European Club of 20th Century" by IFFHS in London on 11 May 2010.
Former Spanish footballer Raul Gonzalez is the all time top goal scorer of Real Madrid who scored total of 323 goals. With ratio of 0.44, Raul scored 323 goals in 741 games.
FC Schalke 04: The German club won domestic league title Bundesliga seven times. Also, they are nine times runners-up of this competition. In 1997, the club won first ever UEFA Europa League tournament. It was UEFA Europa League 1996–97 competition. The club never won a UCL title so far. Season 2010-11 was best of the club in which they finished in semi final round.
Klaus Fischer, who scored most goals for Schalke in Bundesliga. He netted 182 times during his career at FC Schalke 04.
So these are the head to head stats of Real Madrid vs FC Schalke 04 in the history of all competitions.