Real Mad­rid will be facing Real Sociedad on 30th Decem­ber at their home ground San­ti­ago Bern­abeu. Here are the tele­cast chan­nels with time in IST and match pre­view of this upcom­ing match. The away side lost their last game against Vil­lar­real, but will be look­ing to win against Los Blan­cos. The Vik­ings registered their last vic­tory against Rayo Val­le­cano and thanks to goals from Gareth Bale and com­pany. Giv­en below is the com­plete inform­a­tion about this match.
Real Madrid vs Real Sociedad Telecast in India, Time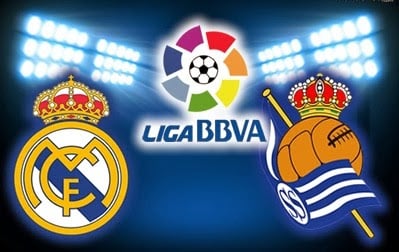 MATCH INFORMATION
Com­pet­i­tion
La Liga 2015–16
Date
30 Dec 2015 [IST &GMT]
Time
8:30 pm [IST], 3:00 pm [GMT]
Sta­di­um
Esta­dio San­ti­ago Bern­abeu
Seat­ing capa­city
81,044 spec­tat­ors
Home team
Los Blan­cos [The Whites]
Away team
Txuri-Urdin [White-Blue]
Round
17th
Tele­cast chan­nels
Sony Kix etc.
India: Sony Kix
Spain: Mov­istar TV Fut­bol, Canal+ Mul­tide­porte 3, Abono Fut­bol, Canal+ Liga / HD
United King­dom: Sky Sports 1 / HD UK, Sky Go Extra, Sky Go UK, NOW TV UK
United States: fuboTV, beIN Sports USA, beIN Sports Con­nect USA, beIN Sports en Espan­ol
Real Madrid vs Real Sociedad Match Preview
Out of last five matches, Los Blan­cos man­aged to win 4 games with loss of one game against Vil­lar­real. Their Copa del Rey game against Cad­iz can­celled due to exclu­sion of Real Mad­rid from the com­pet­i­tion.
Real Sociedad squad man­aged to win only one game out of their last 5 matches in all com­pet­i­tions. Their last win was against pro­moted team Eibar on last match day by 1–0. They lost two games and played two draws against Granada and Vil­lar­real.
Karim Ben­zema, who scored the equal­izer in his last game against Cor­doba, will carry a big threat, while Colom­bi­an attack­ing mid­field­er James Rodrig­uez will also pose prob­lems to the vis­it­ors.
Although the whites and blues had stum­bling start at the begin­ning of sea­son, but the team is improv­ing. Their vic­tory against Bar­celona by 1–0 with the pres­ence of Lionel Messi, Ney­mar and Suarez could­n't save defeat at first leg. This means they have the poten­tial to stop Gareth Bale and Co.
Out of last five head to head games, Real Mad­rid have won three games, while their rivals won one game. The remain­ing game was draw. In last five encoun­ters, Los Blan­cos scored 18 goals and con­ceded nine goals.