Manchester United continues their winning run in International Champions Cup of 2014 defeating the current European champions by 3–1. Goals from Ashley Young [2] & Javier Hernandez helped the Red Devils to win 4th ICC match of US tour 2014 in a row. Real Madrid suffered another loss before new season in front of highest crowd ever in football game of United States. The new Dutch manager is doing his job fantastically which is a good symptom for Britain's biggest club.
Real Madrid vs Man United 3–1 ICC 2014 Goals Video
Watch the video highlights of this match below. Michigan stadium recorded total attendence of 109,318 which is biggest ever in a football match ever played in United States. Man Utd played a decent game, they destroyed Madrid's strong defense with their smooth passing. Ashley Young scored the opening goal with assist from Wayne Rooney, defeating Casillas from 12yards. Los Blancos made come back with goal from Gareth Bale via penalty in 27th minute but it was not enough.
On 36th minute, Young scored second goal which was a curly assist for Rooney. It was looking goal of Wayne Rooney, but replays made it clear that goal was scored Ashley Young. Last goal from Javier Hernandez in eightieth minute was enough to ensure victory against the current champions league winners. The Red Devils won all games in US tour of 2014 while the vikings lost all of them. The Italian coach Carlo Ancelotti refused to include Cristiano Ronaldo against United. Later he came off the bench & played few minutes. Karim Benzema, German midfielder Toni Kroos & Colombian midfielder James Rodriguez were also absent because of World Cup long run. However he stated that "We don't want to take any risk with Ronaldo". This means Ronaldo & his new team partner could join in UEFA Super cup 2014 final match against Sevilla FC.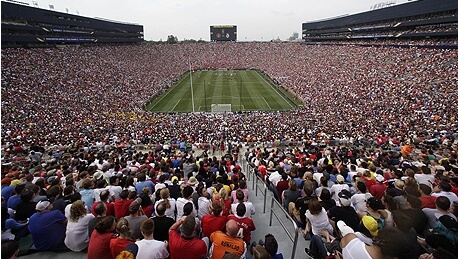 Manchester United will face Liverpool in final match of this competition at Miami's Sun Life Stadium on Monday. After the match, winning manager said "It's Liverpool in the final? OK! Thank-you!. It is good for English football and very important that two teams from the premier league will play in the final." So far, Man Utd have scored 13 goals in this competition [excluding penalties] & conceded 3 goals. The arrival of van Gaal has turned the red devils back in form. He was impressed by performance of Ashley Young specially against a team like Real Madrid. Only two pre season games yet to be played before kick-off of premier league 2014–15.