The home ground of Real Madrid Santiago Bernabeu is all set to be renamed. The Spanish club will now add a sponsor's name with their Iconic football ground. According to the Spanish sports newspaper AS. The stadium will be renamed Abu Dhabi Bernabeu. This report has not been confirmed by the club but their president was caught on camera admitting to a member of the regional government that the stadium will be called whatever the Abu Dhabi investment group Ipic wants it to be called.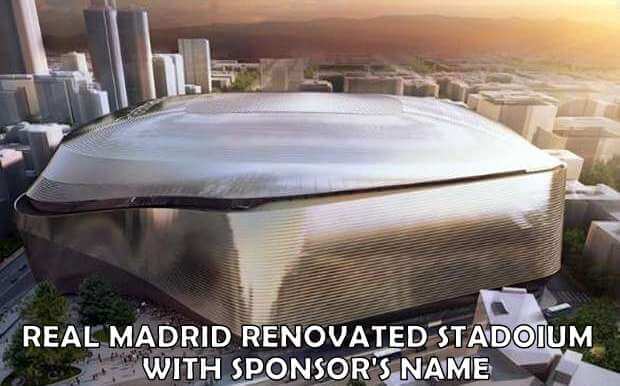 Before this, Microsoft was also in the race of adding its name with the Santiago Bernabeu. Madrid signed a deal with the International Petroleum Investment Company [IPIC] in 2014 to enable them to fund the redevelopment of the ground and, although the club have yet to publicly announce the agreement included naming rights.
The ground of current European Champions will carry a sponsor's name following its 500 million Euros revamp. They are all set to name their stadium the Cespa Santiago Bernabeu. Cespa is a an energy company which is owned by IPIC.
The design and structure of new Santiago Bernabeu has been confirmed. The engineer who selected its design is a Barca fan. It is believed that IPIC proposed the Abu Dhabi Santiago Bernabeu but that was dismissed by the club. Another alternative was the IPIC Bernabeu which was again rejected.
Now AS reports that the stadium will be called Cespa Bernabeu after IPIC was rejected as a name. Whether that is the final decision remains to be seen but its days of being just the Santiago Bernabeu are numbered.
The new Cespa Santiago Bernabeu will have seating capacity of 90,000 and is it is expected that it will be ready at the end of year 2017. Home matches will be played on same ground and the construction work will be suspended during home games.