The Home as well as away kit of Spanish Club Real Madrid are Leaked. Earlier, the away Jersey of the club was leaked, now we got leaked pictures of club's home Jersey. The Vikings will wear white as home kit & pink as away kit for next season onwards.

Again, Adidas is the supplier of the club's uniform kit. Adidas has extended its contract with the currents richest football club Real Madrid. The deal of Los Blancos with Adidas completed with total amount of 31 million pounds per year. This is the biggest contract signed by Adidas & it has also made an agreement of 30 million pounds per year with Chelsea FC.
New Home Kit of Real Madrid for 2014/15 Season
As the nick name of the club generally describes the uniform color of club, so the Whites will again wear classical white colored Jersey for season 2014/15. White color is used as major appearance with dark blue appearances.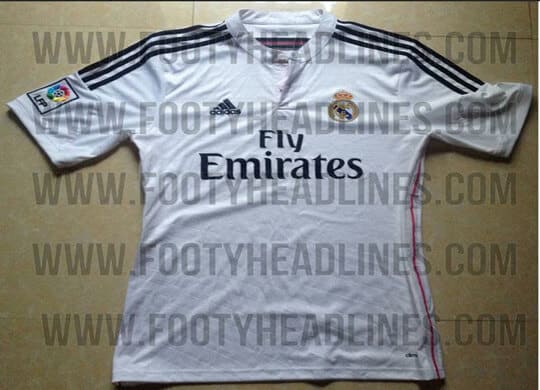 Logos of club & Adidas are designed at same place with dark blue color. On shoulders, there is appearance of Adidas 3 stripes in dark blue color. Color of Adidas logo & Sponsor name Fly Emirates is also in dark blue. The new home Jersey comes with classical Henley collar which is a little bit change in it.
Three stripes are also designed inside & at the back Jersey. Out of these three, 2 are of blue & with one single stripe of pink color in between these 2 blue stripes. At the back side, Name of Real Madrid with Blue color is written with a single star between two words.
Shorts & Socks of home kit is also in white color with blue color appearance. Only pictures of home kit are leaked & full details will be announced later. This Kit of Real Madrid will be released one month before FIFA World Cup 2014 i.e. May 2014.
Real Madrid New Away Kit 2014/15
Only color changes are made on new Away Jersey of the team. Instead of White, Pink is used as major color & dark blue colored is replaced by white applications. Away & home kits are not officially announced. Adidas has planned to release these kits in May 2014. Till then have a look on leaked Jersey of Real Madrid which is designed for next season. Team's third kit is designed by Japanese designer Yoji Yamamoto. We will see third kit of the team with Black & white applications. Adidas has announced that the kit of UEFA Champions league of this team will be released in August 2014.