The world's richest football Real Madrid is all set once again for its fans. Here are the complete fixtures and team squad of this club for its next season. This season would be the one of the toughest season for Real Madrid as Barcelona has signed the new superstar Neymar. Madrid was also looking to sign Neymar but the deal was finalized by Barcelona. Its first match is against Real Betis in the tournament of Liga BBVA.
New season with new manager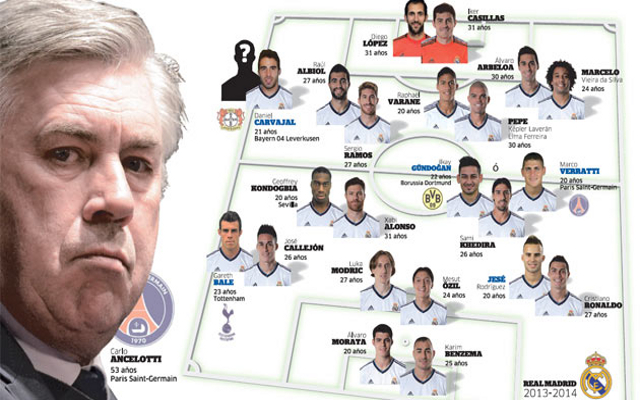 Real Madrid will start its new season with new manager Carlo Ancelotti. He was signed for Madrid on 25 June 2013 as the former manager Jose Mourinho has leaved and entered to Chelsea F.C. Carlo had made 1st look for media on 26th June 2013. There are some new faces in this club for new strategy. The first contract was announced on 3rd June in terms of Daniel Carvajal. He came from the German Club Bayern Munich with a deal of €6.5M. After that Casemiro's contract was done with a deal €6M. This was done on 10th June. On 10th July and 11th July Nacho Fernandez and Callejon were also signed respectively. At last the 4th signing in name of Asier Lllarramendi by Real Madrid. He was offered total of €32.3M & the contract is done for next 6 years.
Real Madrid Fixtures for La-Liga 2013–2014

Match Date

Opponent Team

18-Aug-2013

Real Betis

25-Aug-2013

Granada

01-Sep-2013

Athletic

15-Sep-2013

Villarreal

22-Sep-2013

Getafe CF

25-Sep-2013

Elche

29-Sep-2013

Atletico Madrid

06-Oct-2013

Levante

20-Oct-2013

Malaga

27-Oct-2013

Barcelona

30-Oct-2013

Sevilla

03-Nov-2013

Rayo

10-Nov-2013

Real Sociedad

24-Nov-2013

Almeria

01-Dec-2013

Valladolid

15-Dec-2013

Osasuna

22-Dec-2013

Valencia

05-Jan-2014

Celta Vigo

12-Jan-2014

Espanyol
Team Squad for Season 2013–2014
As the club has made certain changes it is very difficult to make a unique line up for the team. Ilker Casillas who is the captain of team has huge responsibility to guide as well as to block the goals of opponent team. Here is the complete list of team squad.
| | | | |
| --- | --- | --- | --- |
| Player Name | Position | Age | Goals |
| Iker Casillas (captain) | GK | 32 | 0 |
| Raphael Varane | CB | 20 | 4 |
| Pepe | CB | 30 | 5 |
| Sergio Ramos (VC) | CB | 27 | 41 |
| Fabio Coentrao | LB | 25 | 1 |
| Sami Khedria | DM | 26 | 8 |
| Cristiano Ronaldo | LW | 28 | 201 |
| Kaka | AM | 31 | 29 |
| Karim Benzema | CF | 25 | 87 |
| Mesut Ozil | AM | 24 | 27 |
| Marcelo (VC) | LB | 25 | 17 |
| Antonio Adan | GK | 26 | 0 |
| Xabi Alonso | CM | 31 | 6 |
| Daniel Carvajal | RB | 21 | 0 |
| Alvaro Arbeloa | RB | 30 | 3 |
| Raul Albiol | CB | 27 | 2 |
| Luka Modric | CM | 27 | 4 |
| Gonzalo Higuain (VC) | CF | 25 | 121 |
| Angel de Maria | RW | 25 | 25 |
| Isco | AM | 21 | 0 |
| Asier Illarramendi | CM | 23 | 0 |
| Diego Lopez | GK | 31 | 0 |
| Nacho Fernandez | CB | 23 | 0 |
| Alvaro Morata | CF | 20 | 2 |
| Casemiro | CM | 21 | 0 |