New Real Madrid 2015–16 training kits have been leaked. We have got some pictures of two jerseys that will be used during the training session of next season. Just few months ago, we have showed you first look of Real Madrid new kits for 2015–16 and this time we are going to share the training jerseys of the Spanish club.
Real Madrid 2015–16 Training Kits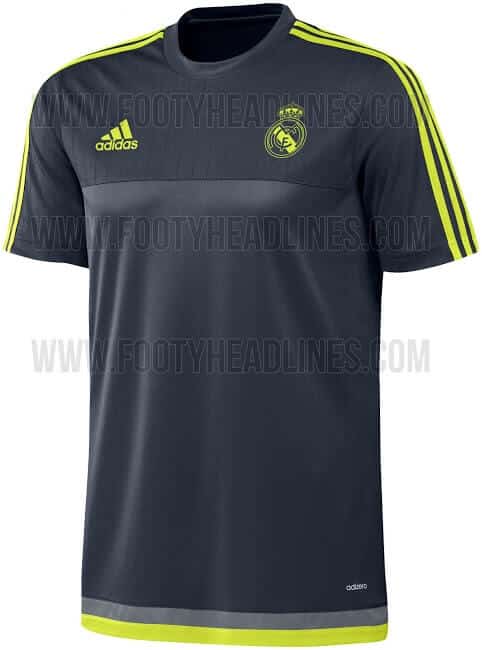 The first training jersey of Real Madrid comes in dark grey with yellow linings. In short dark grey color is used as main appearance, while yellow is used for other patterns. Crest of club and of Adidas logo is in yellow on both chests.
The three iconic Adidas stripes in yellow appearance are designed from neck to the bottom of arms. Some thin vertical stripes in dark grey are there on chest area, whereas plain layout is designed below chest.
Bottom of first Real Madrid 2015–16 training jersey is featured with light grey and yellow stripe that looks quite impressive. Oval shaped collar is in dark grey.
Related: Arsenal 2015–16 kits leaked
Real Madrid 2015–16 Second Training Kit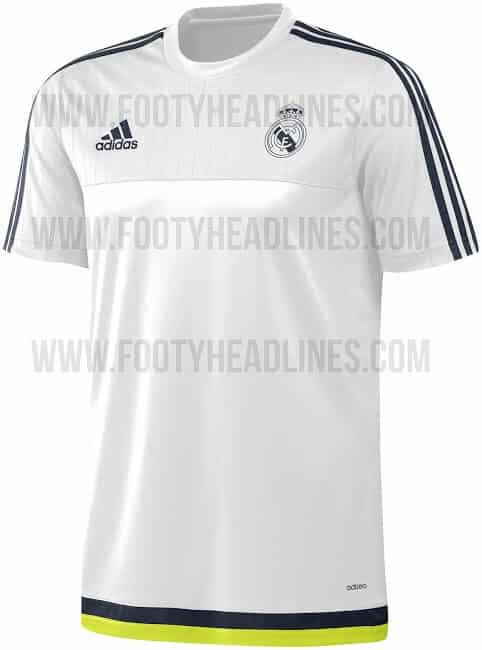 Based on home colors, the 2nd training jersey of Real Madrid is in white as main appearance featured with dark grey applications. You can call it black and white training jersey. In this t‑shirt, yellow is replaced with dark grey.
Hem of second jersey is in bright yellow color. Collar of Real Madrid second training jersey for 2015–16 season is in white and classical. Just like on first jersey, grey and yellow stripes are at the bottom of jersey.
These training kits of the club are expected to be unveiled in summer with official new kits. Do you like these new training shirts?