FIFA has got last 8 teams for quarter finals of 2014 FIFA World Cup. What a fantastic tournament we are enjoying & thanks to host nation Brazil which showed tireless efforts to make this competition best of the best. Wait for top 8 teams for quarter final is over. Best 8 national football teams along with host nation are scheduled for next round which is beginning from 4th of July. Have a look on fixtures bracket, match dates & teams qualified for quarter final of this world cup.
Teams Qualified for Quarter Final Round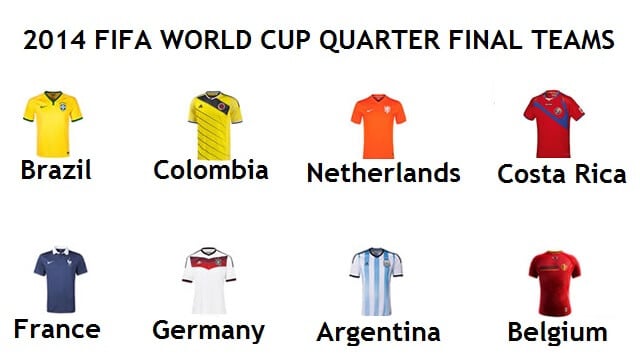 All winners of their respective groups got ticket of quarter final round. This means top teams from each group will play next round of this tournament. Brazil, Colombia, Netherlands, Costa Rica, France Germany, Argentina, Belgium have successfully qualified for last 8 round of this campaign. 1. Brazil: Five times champions will play first round of 8 match against Colombia, while vice champions of last World Cup will face the most developed team Costa Rica. On 4th of July, first quarter final match will be played & last game is scheduled to be played on 5th July. 2. Colombia: Although this team has not won FIFA World Cup, but their performance of this world cup will be remembered for years. This is the first time quarter final qualification of Los Cafeteros, but can they make it to the semi final? After injury of Radamel Falcao, James Rodriguez done his job & helped his team to play long tournament. 3. Netherlands: Holland are the only one who played final match of FIFA World Cup & lost all of them,. The current vice champions took revenge of last world cup defeat against Spain & made huge victory by 5–1 in first game of group stage. Their next match is against Costa Rica. 4. Costa Rica: The most underrated team proved that football will never be the same. Le Sele escaped from group of death after defeating Uruguay & Italy in group stage game & qualified as winner of group. But can the team deserve victory over the vice champions in quarter final? 5. France: This team had worst performance in last world cup of South Africa in which they were knocked out in group stage. This time, they made a perfect comeback with some new talent in the form of Pogba, Varane & experienced players like Giroud, Benzema. Les Blues are one time champion of 1998 which they won with their legend Zinedine Zidane. 6. Germany: The Eagles are the only ones who qualified for round of 8 maximum number of times. Three times world champions won their last world cup 24 years ago. They sweated a lot to make victory over Algeria in order to qualify for quarter final round. Goals from Schurrle & Ozil took Germany to this round. 7. Argentina: The Whites & sky blues are playing their 15th World Cup competition. Team captain Lionel Messi's perfect form continues. It would be not incorrect to say that Messi is carrying his team on his own. Can anyone stop Messi's perfect run? 8. Belgium: Team of young talent is tasting huge success of football's biggest competition. So far, they played a decent game & that's why they are here. The Red Devils have not lost any game in this competition. If they wins against Argentina, it will be their second appearance in Semi final round of FIFA World Cup.
Quarter Final Fixtures Schedule of 2014 World Cup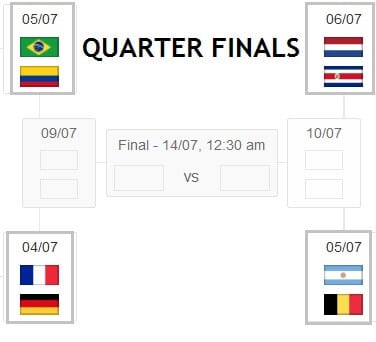 | | | | |
| --- | --- | --- | --- |
| MATCH | DATE | TIME [GMT & IST] | STADIUM |
| FRA vs GER | 4 July | 4:00 pm & 9:30 pm | Estadio Maracana |
| BRA vs COL | 4 July [+1 India] | 8:00 pm & 1:30 am | Estadio Castelao |
| ARG vs BEL | 5 July | 4:00 pm & 9:30 pm | |
| NED vs CRC | 5 July [+1 India] | 8:00 pm & 1:30 am | Arena Fonte Nova |