Here is the match pre­view of Poland vs Ger­many Time & Tele­cast Chan­nels, World cup cham­pi­ons Ger­many will face Poland this week­end for their second group stage match in the UEFA Euro 2016 qual­i­fi­ers. As both were win­ners in their respect­ive open­ing matches for the Group stage of the Euro 2014 qual­i­fic­a­tions. Can the world cham­pi­ons make it easy to qual­i­fy for 2016 Euro Cham­pi­on­ship? Let's find it out.
Poland vs Germany Time & Telecast Channels
Com­pet­i­tion

UEFA Euro 2016 Qual­i­fi­ers

Date

11 Oct 2014 [IST], 12 Oct 2014 [GMT]

Time

6.45pm [GMT], 00.15 [IST]

Sta­di­um

Sta­di­on Nar­o­dowy

Seat­ing Capa­city

58,145

Home Team

Biale Orly

Away Team

Die Adler

Tele­cast &
Broad­cast Chan­nels

ESPN Aus­tria, Polsat Sport,




Sony Six SD, Sky Sports 5/HD
Ger­many: RTL Tele­vi­sion
Poland: Polsat Sport
Aus­tralia: ESPN Aus­tralia
India: Sony Six SD
Spain: Mov­istar TV
Azerbaijan: Setanta Sports Euras­ia
Por­tugal: Sport TV2
France: Sport+
Indone­sia: Glob­al TV Indone­sia
Ire­land: Sky Go, Sky Sports 5/HD, Sky Go Extra
Japan: WOWOW, SKY Per­fecTV LIVE
Malay­sia: Astro On The Go
Pakistan: Sony Six SD
Sweden: Kanal 9 Sweden
New Zea­l­and: ESPN2 Aus­tralia
United States: ESPN2, WATCH ESPN, ESPN Depor­tes
Poland vs Germany Euro 2016 Qualifier Match Preview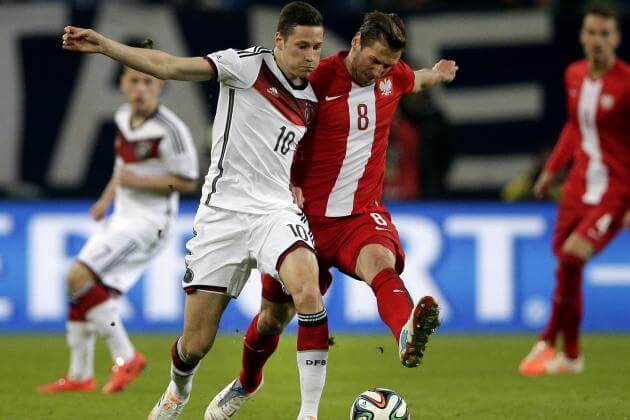 Last 5 res­ults
Poland: WWDLW
Ger­many: WLWLW
Talking Points of Poland



Poland earned sev­en goals and all three points against new­comer Gibral­tar, Poland kicked off their cam­paign as the most impress­ive res­ult of the tour­na­ment. The vic­tory was quite pre­dict­able as their oppon­ents are rel­at­ively inex­per­i­enced and are debutant to the com­pet­i­tion.
They are ren­der­ing their rivals goal­less in an inter­na­tion­al tour­ney is already a strong state­ment. "We had con­trol through­out, but in the second half we were much bet­ter… We came here to get three points and that's the most import­ant thing. Now we'll ana­lyze the match to see what went wrong and what went well," expressed Adam Nawałka, Poland's top brass.
Talking Points of Germany
The new World Cup cham­pi­ons are con­tinu­ing to make their inter­na­tion­al pres­ence known. The side kicked off their Euro 2016 qual­i­fic­a­tion cam­paign with an impress­ive but hard-earned vic­tory against Scot­land. It was all that the Scot­tish play­ers were able to pull off. "It was a dif­fi­cult bit of work today, but we were pre­pared for that. We gave a good per­form­ance at first—we could have scored a couple of goals more," said Ger­man defend­er Sebasti­an Rudy.
Poland team had a sco­re­less draw with the Ger­mans in their last meet­ing this year before the World Cup. Before that, they also had a 2–2 draw with Ger­many in 2011. Although the Poles have nev­er beaten their Ger­man neigh­bors, their recent res­ults against this team look good.