After long wait, the 20th FIFA World Cup is now begun with a great atmosphere at Arena Corinthians. Host nation Brazil organized one of the best opening ceremony of the tournament. Here we are able to show you some HD pictures & photos of the Opening ceremony of Brazil World Cup which are now available for free. During the show, the Brazilian singer Claudia Leitte, American singer Pitbul & Jennifer Lopez were present as show stoppers. Earlier, it was declared that Lopez will not be present in the show, but she was appeared joining stage with another 2 stars. Have a look on the latest pictures below.
Photos of Opening Ceremony of Brazil World Cup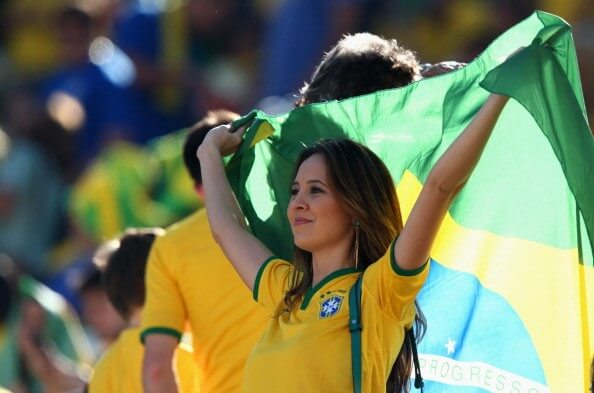 Ronaldo with FIFA World Cup Mascot
Jennifer Lopez, Claudia Leitte & Pitbul in Stage Show Performance
Show Performers at Arena Corinthians
Brazil & Croatian fans before the game
Neymar celebrating the goal
With approximate 600 performers, the Arena Corinthians showed the power of Brazil. Pitbul, Lopez & Leitte performed for 25 minutes followed by fireworks which indicated the start of the competition. The trio sung world cup songs "We Are One & Ole Ola".
One more good news was waiting for the Brazilian fans which is about their first win. Luis Scholari's squad registered their first win in group stage over Croatia by final score of 3–1. The first own goal of Marcelo disappoints the fans, but once again, Neymar showed his class & became the rescue of the team scoring 2 goals. Last goal was scored by Oscar.
Great Facts about Opening Ceremony
1 Billion fans watched Opening Ceremony: The event set up a new record. It was calculated that more than 1000 millions [100 crores] fans watched this event on television across the globe. The event started at 11:00 pm on 12th of June 2014 in which all 32 national football teams were represented. Attendance of more than 65,000: The Arena Corinthians is know for having audience capacity of more than 65,000. Almost 68,000 people were present during the opening ceremony of 2014 FIFA World Cup. It was well organized event Brazilian tradition, culture & football. $15205.271 million Investment: According to recent reports, it is declared that host nation has invested a sum of about $15205.271 million in this competition. The amount is higher as compared to that of 2012 London Olympics which was calculated as $14867.376 million. Brazil is Playing 20th World Cup: Brazil is the only nation which have qualified for the 20th FIFA world cup. This is the first national football team that have played all tournaments of FIFA World Cup & is the only team to win it 5 times.