Phillip Lahm, the captain of Bayern Munich as well as of Germany National Football Team spoke before kick-off of 2014 FIFA World Cup. Although the team is strongest competition of Brazil Football world cup, but he thinks, ego is the toughest hurdle of the upcoming competition. The 30 years old defensive midfielder says every player have to leave personal interest in order to lift the trophy of world cup. Complete squad of Germany National football team is revealed & the player have started preparations for biggest campaign after winning 2 titles with Bayern Munich. Last time, Germany won world cup in 1990. So far, the national team won this competition 3 times [1954, 1974 and 1990]. But now, football is at next level with some new developed teams like Belgium, United States which can create trouble for top teams.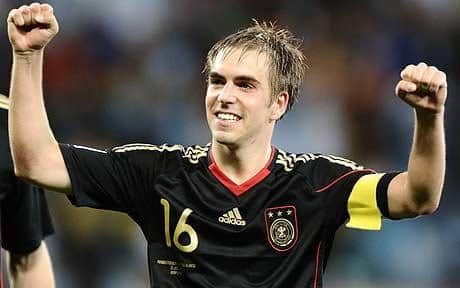 During an interview with Bild, he said "We have the punch for the title, We only need to consider one thing: that the talent and ego of every individual must serve the team. I don't want to finish in the semi finals or go to Brazil to soak up the sun. I have a clear goal: that is the greatest possible success — the world cup trophy." "We have to word especially on our defense & have conceded too many goals and allowed too many good chances. We must pay more attention to how the defense dropped. The whole team needs to."
Germany Performance in Past Few Tournaments
In last four big competitions, Germany has finished every competition in round of semi final and in final. The national team has played semi finals in world cup 2006 and 2008. In both of these competitions, they finished at 3rd spot. Also, the team finished at second place in EURO 2008 and at fourth place in last EURO competition. In the qualification games of this world cup, Germany qualified as the winner in its group. But they are scheduled in Group G of 2014 world cup which is one of the toughest group of round of 32. To qualify for pre quarter finals, Germany have to finish round of 32 at 1st or 2nd spot. Teams like Portugal, United States and Ghana can make troubles in their journey to final. Can Philipp Lahm repeat the history of 1990 FIFA World Cup which Michael Ballack didn't?