The 20th edition of FIFA World Cup is at its last stage. We have seen so many goals in this competition specially in group stages with some own goals also. In opening game of Brazil vs Croatia, an own goal from Marcelo put Brazil into back-foot, but thanks to goals from Neymar & Oscar who helped Brazil to overtake Croatia in first game. Here we have made a list of all own goals of 2014 FIFA World Cup. Total 5 own goals have been recorded in this competition. Have a look on this list with video.
All Own Goal Scorers of 2014 FIFA World Cup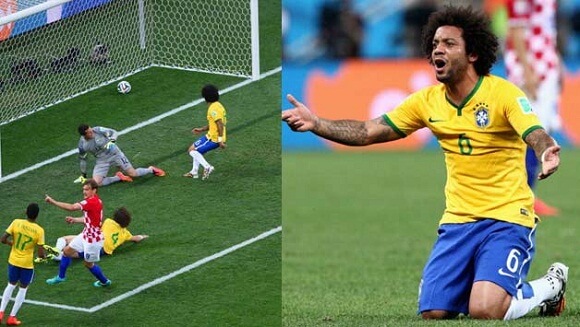 In this list, five players Marcelo, Sead Kolasinac, John Boye, Noel Valladares & Joseph Yobo scored their own goal. Video of every goal is also available here. You may not view some videos right now, but it is temporary. If the video is running, then try to refresh this page or upgrade your flash player. 1. Marcelo [Brazil] against Croatia 2. Sead Kolasinac [Bosnia & Herzegovina] against Argentina 3. John Boye [Ghana] against Portugal 4. Noel Valladares [Honduras] against France 5. Joseph Yobo [Nigeria] against France In the list of top goal scorer of this World Cup, the Colombian striker James Rodriguez is at top spot with 6 goals followed by German forward Thomas Muller with 5 goals. Rodriguez also made 2 assist in this competition & helped his national team to qualify for the quarter final in World Cup for the first time.Only 2 games are left in this competition, one for third place which will be played between Brazil vs Netherlands & second is final match between Germany & Argentina. Note: This list was last updated on 10 July 2014.