New Nike Blackout Reflective Nike 2015 football boots pack unveiled by Nike under Nike Academy Pack
One of the leading sports kit supplier, Nike have unveiled the new pack of 2015 football boots which are now officially unveiled. In this pack, soccer shoes of Nike Hypervenom, Mercurial, Tiempo and Magista are included. Get ready to rock your game with these new black collection of Nike. Take a close look on this latest launch of this South American brand.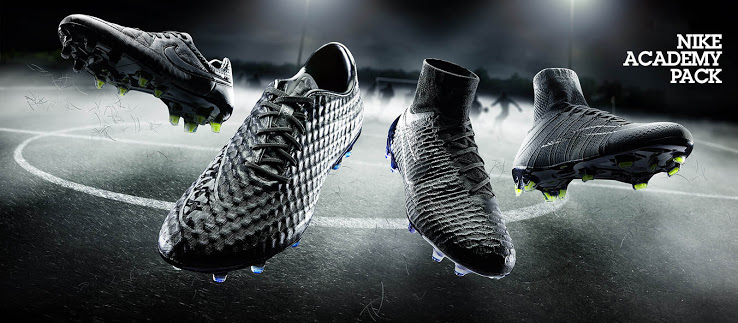 The graduates of Nike have signed for clubs and they already have tested this Blackout Nike Prototype soccer shoes. Before handing these new boots of high profile players, they have tested them very well. It is now official that high profile players can now use these football boots.
Nike Hypervenom — Nike Academy Pack
The first and one of the most advanced football boots of Nike is Hypervenom which is available in black. It is designed to shine, the new Black out reflective Nike Hypervenom Phantom football boot is featured with an all black upper with a reflective swoosh design.
Whole boot is in honey comb maize structure and is available in black. Its inner sole is orange in appearance along with a similar pattern as the next generation Nike Hypervenom 2.
Tiempo — Nike Academy Pack
Soft Kangaroo Leather technology have been used in manufacturing Tiempo boots of this collection. It allows you to have a better ball control, combined with Nike's all conditions control technology in all conditions. On each sides of boots, there is a black Nike swoosh. Spikes are in yellow and black appearance.
Magista — Nike Academy Pack
Few days ago, Nike unveiled black orange Nike Magista Obra 2015 football boots. Now this collection is added with blackout reflective Magista Obra soccer shoes which are also called as summer shoes. The honey comb structure on its upper surface lets you better control on ball during wet and dry situations.
At the end of this month, these new blackout reflective soccer shoes of Nike will be available at limited edition.