After Risk everything first part, the American based sports kit giant Nike have introduced another new world cup ad campaign of risk everything featuring Cristiano Ronaldo, Wayne Rooney, Neymar, Zlatan Ibrahimovic & some other football stars. Although the sports kit supplier is not the official partner of FIFA World Cup, but the brand is doing lots experiments for this upcoming summer world cup. This new commercial ad is full of Nike football stars & is considered as one of the best commercials of this tournament. So enjoy the video of this commercial ad.
Nike New World Cup Ad Video
We have seen Ronaldo, Rooney & Neymar in first part of Risk everything. Now, there is a huge cast of football super stars who are brand ambassador of Nike are playing in this commercial. This time, Nike have made quite long ad video but, there is no space for boredom. In the commercial, Zlatan Ibrahimovic, whose huge ego and third person Twitter campaign #DareToZlatan have made the headlines in the past, insists on taking a free kick telling German starlet Mario. "Zlatan thinks that Zlatan should take this". Along of these stars, there are some appearances of Italian star Andrea Pirlo, Spanish midfielder Andres Iniesta.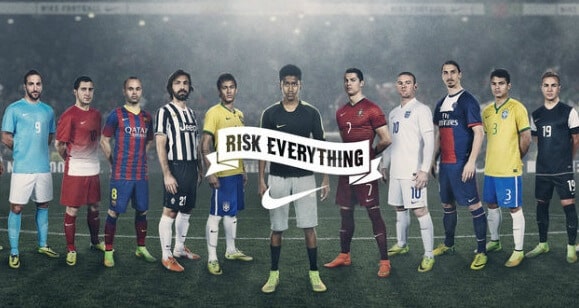 Stars in ad video: You will watch stars like Cristiano Ronaldo, Wayne Rooney, Neymar, Zlatan Ibrahimovic, Andres Iniesta, Andrea Pirlo, Mario Gotze, Gerard Pique, Thiago Silva, Eden Hazard. Also, Ronaldo's current girlfriend Irina Shayk is adding extra stars in this video. The new ad from Nike is looking impressive & there is no disappointment. Along with entertainment, there is a message "Risk Everything" for the players which directs, without risk there is no success. Watch Also: Risk Everything Part 1 Almost 6 weeks to go for Brazil world cup. Naturally, Nike is promoting their latest FIFA world kits & new boots. We'll see these stars in new uniform & new boots like Mercurial, Superfly IV, Magista etc. So which side on you are?