The all new Nike Mercurial Superfly football boots are leaked which are designed by the American based giant Nike. These are looking like Nike Magista at some extent but are designed in different design & color combination. Along with leaked boots, some details of these new shoes are also revealed which we are sharing with you right over here. So have a look on new Nike Mercurial Superfly.
Nike Mercurial Vapor Superfly 2014
Fans of Nike will love it and why not as these new cleats are made with extra toughness & are light in weight. like Nike Magista, height of these shoes is made little bit high which lets you to have a better control on ball during running. The upper sole of these shoes are made with Nike FlyKnit technology that helps in better control. On upper sole, the trademark of Nike in yellow appearance with some red dots are there. The Fly wire technology is used on the upper to offer maximize support. It is expected that Nike Mercurial Superfly comes also with Fly Knit technology. Bottom sole is made in black appearance with some yellow applications. Logo of Nike is also designed at the bottom of shoes in yellow color. For whole design of it, the color combination of Red, yellow & black is used. The SG version of the Nike Mercurial Super fly boot will feature srew-in studs to provide perfect traction on soft ground.
Release Date & Price of Nike Mercurial Superfly 4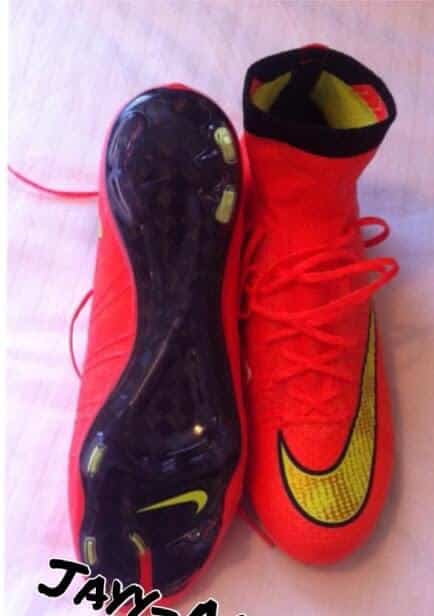 The actual release date of these shoes is not revealed yet. But Nike has stated that these new boots will be launched in the month of May 2014 just before FIFA World Cup 2014 which is beginning from 12th June in Brazil. Naturally, Nike is preparing for upcoming world cup which can make huge profit for the sports brand. The price of Nike Mercurial Superfly 2014 is 275 Euros for the FG version & that of SG pro version is 285 Euros. We've also shared some pictures of new Nike Mercurial. So just check out the latest shoes from Nike.