The Brazilian winger praised his team mate Lionel Messi not for only for his performance, but also for being a good friend. The Barca duo is making wonders with huge back to back wins. Neymar, who is currently the third highest goal scorer of La Liga this season is enjoying his play with Messi and former Liverpool forward Luis Suarez. Read what he said about Lionel Messi
Neymar: Lionel Messi is my best friend
After winning with a clean sheet of 5–0 against Levante, Neymar told to Canal Plus "Messi is spectacular, a friend off the field and on it as well. We had to have minutes together and we are having it now. Leo and Suarez are two great players. We should enjoy them and Pedro, because they are fantastic players."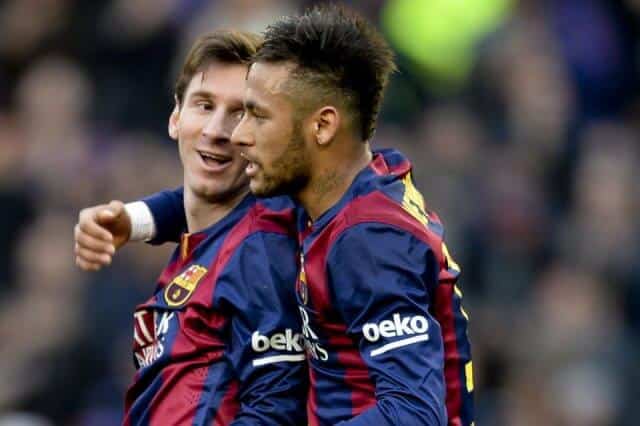 Messi scored another hat-trick in last encounter vs Levante and equalled record of Cristiano Ronaldo for scoring most hat-tricks [23] in La Liga. It was Messi's 300th appearance in La Liga in which he netted 23rd hat-trick.
While, Neymar also netted one goal after an assist from Messi. The 23 year old footballer overtaken Argentina's legend Diego Maradona for scoring more goals at the club. Diego Maradona scored 38 goals during his career at Barcelona.
Neymar's goal today means he passes a certain Mr. Diego Maradona for Barcelona goals #FCB #Neymar pic.twitter.com/mfdyDAif1M — Bleacher Report UK (@br_uk) February 15, 2015
There was a risk when Barcelona signed Neymar that the two biggest names in South American football, from rival countries, could clash, but the exact opposite has happened. Both of them are enjoying each other's partnership.
Barcelona's next rivals are Malaga against whom they play La Liga match on 21st Feb at home ground Camp Nou. Thereafter, they will visit England to face Manchester City in UEFA Champions League for round of 16 match.