Name of Lionel Messi's second child has been decided and it will be Benjamin
The Argentina and Barcelona's forward Lionel Messi is going to be father of second child. His life partner Antonella Roccuzzo is pregnant who is featured in a photo with her son Thiago Messi. He is enjoying this season a lot both on and off the pitch. If you are looking for the name of Messi's second child, then you have reached just at correct place.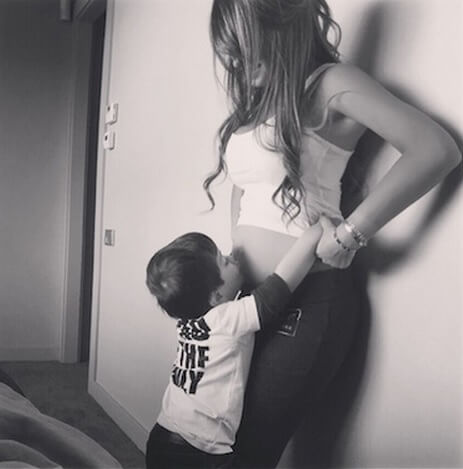 In the month of November 2012, Antonella Roccuzzo gave birth to Thiago Messi and now she is going to be mother of second child. The name of his second child is Benjamin. Messi revealed on Facebook that they will become parents once more. He posted a picture of the pair's kid kissing his mother's stomach, with the Argentine adding the message:
"Can't wait to welcome you into our world!!! We Love You! Thiagui, mum and dad."
The boy already seems excited to meet the new family member. In the picture that Messi posted, Thiago is kissing Antonella's stomach who has been pregnant for three months.
Related: Thiago Messi's First Step Video
Now fans can look forward to having two more Messi's running around in a short period of time. Only time will tell if they inherit his ability play soccer and if they can match up to the talent their dad is showcasing day by day.
On second November 2012, his girlfriend gave birth to first son Thiago Messi. The couple have been together since 2008 and knows each other since childhood.
When Lionel Messi's wife was expecting Thiago, the forward celebrated a goal for Argentina VS Ecuador by placing the football under his shirt to all but confirm his partner's pregnancy. So fan can expect the same goal celebration if Messi scores against Cordoba on this Saturday.