The Major League Soccer [MLS] of United States Canada launched new logo on 18 September 2014. It is now official that the football league will use its new crest as a promotion tool from upcoming season. This means the next season [2015] of MLS will be seen with its brand new logo. Its last crest which was featured with a football boot and ball is completely turned into a new one. The all new MLS logo is featured with a simple design removing the ball soccer shoe.
New Logo of MLS League Soccer
The biggest soccer league of United States have successfully completed 19 season of the competition. Its next season will be the 20th season which will arrive with a brand new crest which is looking quite impressive as compared to that of earlier. It is tagged with "MLS NEST" representing to the future with a wink to the past.
According to their official website, the Next is a word that nods to the future with a wink to the past. Next year. The next generation. It reminds us that tomorrow is more important that yesterday and that the best question you can ever ask is: What's next? At MLS, we have been asking What next? since the league's founding nearly 20 years ago. And recently the answers have been exciting and remarkable: new clubs, new stars, new media partnerships, new stadiums and new fans.
In past few years, fans of MLS League noticed improvement in tournament. The number of fans also raised up to certain amount. Some star players which includes David Villa to New York City, Alex to Chicago moved to this league who are also responsible for the improvement of this campaign. Some soccer teams of this competition are improving their stadium.
MLS League Soccer also extended a new contract earlier this year that will more than triple its TV revenues. It is now being played between 19 clubs. The competition runs from March to October every month. The American Soccer have improved a lot in past few years, They have also planned some big milestones one of which is to be recognized as a top 5 soccer league in the world by 2022.
Design of MLS League Soccer New Logo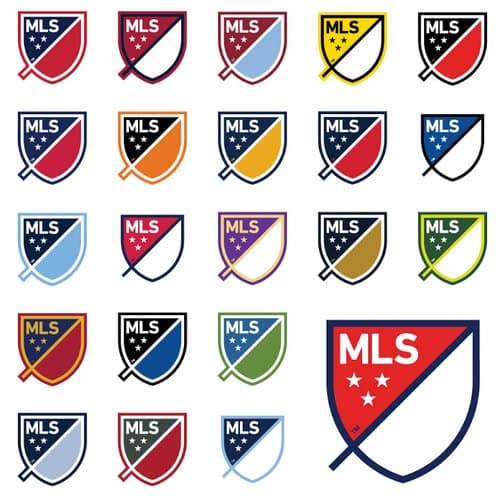 Its design is totally different from last logo. Basically, it is divided into 2 halves by a slash line. It refers to speed and energy of soccer. It begins outside the perimeter and drives upward at a 45-degree angle. The word-mark of tournament "MLS" is written in white appearance with 3 stars on red back ground of first half.
Second half is designed with only background color, representing a particular club of this competition. As they have designed an own version of the new MLS crest, it reflects the club identity.
https://www.youtube.com/watch?v=VpDUOcAqH3w