After Paul, FIFA World Cup has got a new predictor who is holding command of world cup predictions in name of Shaheen. The camel sitting on desert of Dubai is the new perfect predictor animal who can fill the vacant place of Octopus Paul in Brazil summer tournament. In this prediction, some other animals also tried to predict the winner of opening games but Shaheen is the only one who predicted all winners correctly.
How Shaheen Predict the winner?
The prediction procedure of Shaheen is very simple. The Camel just takes the national flag of that team which he think will be the winner of upcoming game. Two flags of national football team placed on each sides with a football in front of him. The camel then makes turn & predict the winner. Some other animals also took part in winner predictions but they did not predicted correctly as like Shaheen. The names of other predictors are Big Head the Turtle, Flopsy the Kangaroo, China's Pandas, Nelly the Elephant, Roo the dog. We have got some pictures of other predictors. Have a look on these latest pictures below.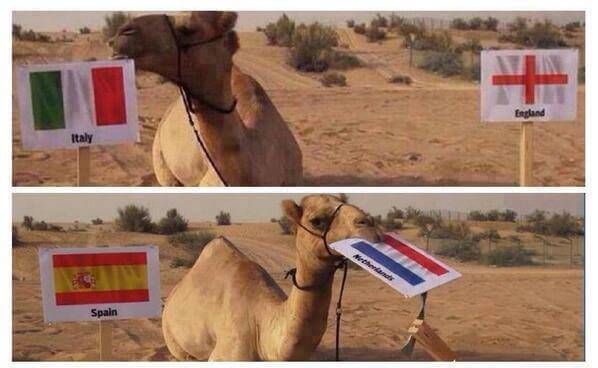 So far, Shaheen has made 3 predictions on world cup matches & all of them were correctly predicted. The toughest predictions were Spain vs Netherlands & England vs Italy. But he made both predictions correctly. Also, he predicted Brazil as winner of opening game of 2014 FIFA World Cup which was very first prediction of this campaign. Now, Shaheen has predicted Argentina as winner of upcoming match against Bosnia & Herzegovina. Looking on these predictions, the way he is predicting the winner, it is quite clear that football fans got successor of Paul who was the prefect in 2010 South Africa World Cup.
An animated video is also made on Shaheen's prediction which we are sharing with you. This video is featured with best predictor of this competition & is designed in eye catching manner.