World champion Manuel Neuer have said something bizarre before the giant clash of UEFA Champions League. Despite losing German Cup semi final against Borussia Dortmund, Manuel Neuer is looking confident of semi final clash, but he also realizes that it will be tough task for Bayern Munich specially without their best attacking squad. Read what the Bayern goalkeeper said about Messi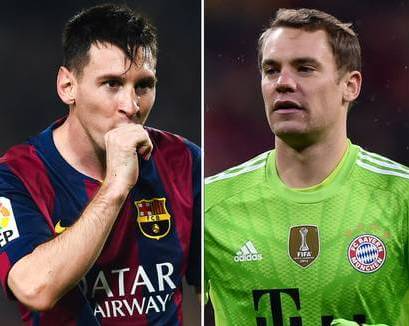 Neuer: I'll Show Messi Who is Boss
Before the semi final clash of Champions League, Neuer showed lots of respect for the Barcelona's star striker. He believes that he can keep Messi quiet once again. He told to L'Equipe
"I have a lot of respect for Messi and for everything that he has achieved. He is very humble. But it's crucial to show authority when we meet on the pitch and show him who's boss. I did the same in the World Cup final and this worked out pretty well."
"We will be looking to do the same on Wednesday night. It is vital to obtain a position of dominance and instil respect."
We have seen Bayern's dominant run against Barcelona two years ago when they registered huge 7–0 aggregate win in same round. But this is different Barca and the Bavarians are suffering from injuries which is the biggest threat for the German giants.
Related: Barcelona vs Bayern Munich IST Time
"The game against Barcelona is a final before the final. Our goal is to make it to the showpiece in Berlin. We dominated Barcelona in both legs in semi finals two years ago, but the situation has changed."
"This time, they have no injuries and Messi is back to his best, while we are missing several key players. We know that we face a tough task, but I am confident we will get our chances."
Do you think Bayern Munich can repeat the history that they created two years ago?