Downoad Manchester United vs Fen­er­bahce goals high­light video in which Manchester United scored 4 goals past the Turk­ish side Fen­er­bahce, with Paul Pogba scor­ing twice. The World most expens­ive foot­baller con­ver­ted a spot-kick and scored anoth­er with a won­der­ful vol­ley, while his com­pat­ri­ot Anthony Mar­tial and Jesse Lingard got in on the action as well. Here you can watch goals and high­lights of this match, you can also down­load that video through the provided link.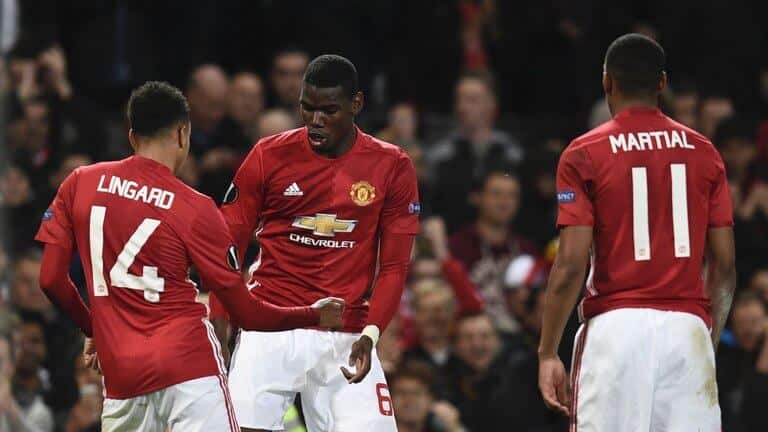 Manchester United vs Fenerbahce 4–1 All Goals Video Download
French mid­field­er Paul Pogba net­ted a brace as Manchester United trashed Fen­er­bahce 4–1 to move to the top of UEFA Europa League Group A.
Red Dev­ils' head coach Jose Mour­inho made sev­en changes to the squad that settled for a goal-less draw with Liv­er­pool on Monday and the incomers included cap­tain Wayne Rooney, start­ing for the first time since Septem­ber.
After very little of note in the open­ing half an hour, Pogba and Anthony Mar­tial net­ted pen­al­ties with­in three minutes of each oth­er before Pogba scored a fine third in first-half injury time.
Newly-made Eng­land Inter­na­tion­al wing­er Jesse Lingard added a fourth just after half-time and the United sup­port­ers were on their feet again for Fen­er­bah­ce's con­sol­a­tion goal, scored late on by their former marks­man Robin van Per­sie.
The Red Dev­ils leapfrog Fen­er­bahce to the top of the group stand­ings and have repaired the dam­age done by their open­ing defeat to Dutch side Fey­enoord, who also have six points.
Video high­lights
Starting Lineups
Manchester United: De Gea, Smalling, Bailly, Shaw, Darmi­an, Mata, Pogba, Car­rick, Rooney, Anthony Mar­tial, Jesse Lingard.
Fen­er­bahce: Demirel, Ali Kaldirim, Skr­tel, Kjaer, Özbayrakli, Neustädter, van der Wiel, Souza, Topal, Sen, Robin van Per­sie.