According to recent reports, The German based sports accessories giant Adidas is looking to make a deal of £ 65 million with Manchester United. If this deal happens, then it will be world record for a club with such a huge amount. The current kit supplier of Man United Nike has not extended its contract with the club which expires at the end of season 2015–16.
Manchester United is All in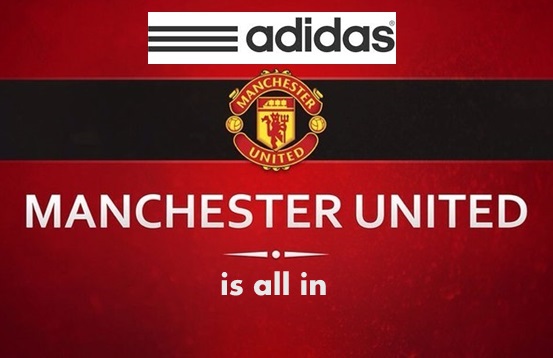 Nike signed a deal of £ 23.5 million per year with Manchester United in 2002/2003 campaign. The American based company has not taken interest to extend this contract so far & Adidas is desperate to complete this deal with English club. Along with Adidas, some other brands like Warrior & Puma also took interest but it's Adidas which is ready to pay this amount per year. Recently, The Red Devils were dropped out of top 3 richest football clubs by Deloitte list of 2013. The current top 3 richest clubs are Real Madrid, Barcelona & Bayern Munich. This is the first time that Man United is dropped out of Royal rankings. If this contract with Adidas becomes successful, the club can make come back in top three clubs of this list. The contract is expected to run for five upcoming seasons with £ 325 million total. It serves to indicate just how powerful the champions of Premier League are.
Other Clubs Contracts Extended by Adidas
For upcoming seasons, Adidas has also extended its contract with one of the top most football club. Adidas is the kit supplier of world top clubs like Bayern Munich, Real Madrid, AC Milan & Chelsea. With Spanish club Real Madrid, Adidas extended its agreement of £ 31 million per year for next 5 years. Check out other contract extensions of Adidas.
Real Madrid: £ 31 Million per year

Chelsea: £ 30 Million per year

Bayern Munich: £ 16 Million per Year

AC Milan: £ 12 Million per Year.
Manchester United is looking All in