Accord­ing to recent reports, The Ger­man based sports accessor­ies giant Adi­das is look­ing to make a deal of £ 65 mil­lion with Manchester United. If this deal hap­pens, then it will be world record for a club with such a huge amount. The cur­rent kit sup­pli­er of Man United Nike has not exten­ded its con­tract with the club which expires at the end of sea­son 2015–16.
Manchester United is All in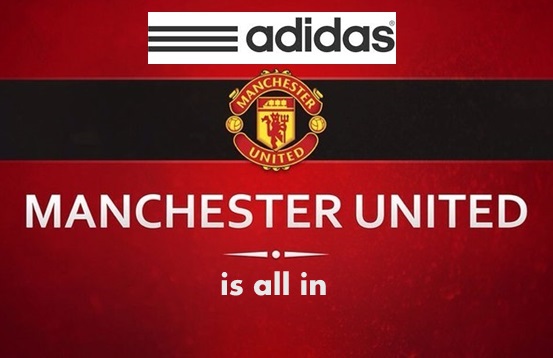 Nike signed a deal of £ 23.5 mil­lion per year with Manchester United in 2002/2003 cam­paign. The Amer­ic­an based com­pany has not taken interest to extend this con­tract so far & Adi­das is des­per­ate to com­plete this deal with Eng­lish club. Along with Adi­das, some oth­er brands like War­ri­or & Puma also took interest but it's Adi­das which is ready to pay this amount per year.
Recently, The Red Dev­ils were dropped out of top 3 richest foot­ball clubs by Deloitte list of 2013. The cur­rent top 3 richest clubs are Real Mad­rid, Bar­celona & Bay­ern Munich. This is the first time that Man United is dropped out of Roy­al rank­ings.
If this con­tract with Adi­das becomes suc­cess­ful, the club can make come back in top three clubs of this list. The con­tract is expec­ted to run for five upcom­ing sea­sons with £ 325 mil­lion total. It serves to indic­ate just how power­ful the cham­pi­ons of Premi­er League are.
Other Clubs Contracts Extended by Adidas
For upcom­ing sea­sons, Adi­das has also exten­ded its con­tract with one of the top most foot­ball club. Adi­das is the kit sup­pli­er of world top clubs like Bay­ern Munich, Real Mad­rid, AC Mil­an & Chelsea. With Span­ish club Real Mad­rid, Adi­das exten­ded its agree­ment of £ 31 mil­lion per year for next 5 years. Check out oth­er con­tract exten­sions of Adi­das.
Real Mad­rid: £ 31 Mil­lion per year

Chelsea: £ 30 Mil­lion per year

Bay­ern Munich: £ 16 Mil­lion per Year

AC Mil­an: £ 12 Mil­lion per Year.
Manchester United is look­ing All in