Leaked away kit of Manchester United for 2015–16 by Adidas: Those who are desperate to have a first look on Manchester United away jersey for 2014–15 can take first look on this jersey. From this season, Adidas will launch the new kits for the biggest football club of England. Today we are able to provide you the leaked jersey of Man United and thanks to Hoang Phan and Footyheadlines.com for sharing the leaked image. Last July, Man United announced the new kit deal with German based sports brand at 75 million British pounds.
Manchester United 2015–16 Away Kit by Adidas
The new away jersey of Manchester United is looking alike of 2014–15. It is featured mainly with white color with red applications. On shoulders, there are three red Adidas stripes. The v‑collar of Man United 2014–15 away jersey is in red appearance.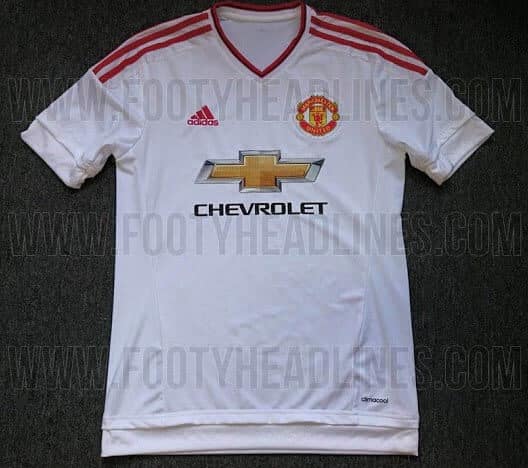 In addition with this, the jersey featured slight tonal hoops as well as embroidered club heritage details on the hem. Club's logo is on left chest, whereas the trademark logo of kit supplier is printed on the right side in red tone. Away shorts for 2015–16 are in black and red while the socks are expected to be in white.
At the center, there is sponsor logo of Chevrolet with yellow appearance with silver boundaries.
It is expected that home jersey of Manchester United for 2015–16 will be in red with white and black layouts. Third kit will be in black with flashy red linings. These kits are all set to be launched in summer.
Adidas signed a new contract with the Premier League club in 2014 and the kit supplier will provide the accessories until 2025 to produce kits and training gears. Did you like the new away jersey of Man Utd by Adidas?