Manager of Manchester City Manuel Pellegrini have to charge his team for next match against Everton after defeat from German Club Bayern Munich. With loss of 1–3, The Sky Blues lost some of big chances in last meet with Bayern. After spending too much money for new players, City has lost 2 games out 6 played. The match will be live telecast from home stadium of The Citizens i.e. Etihad Stadium.
MANCHESTER CITY VS EVERTON MATCH SCHEDULE
Competition
Premier League 2013–14
Date

05-Oct-2013 (GMT & IST)

Time

11:45 am (GMT) & 5:15 pm (IST)

Stadium

Etihad Stadium

Capacity

60,000

Home team

The Citizens

Away team

The Dogs of War

Telecast Channels in India

ESPN India, ESPN HD India,
In this season so far The Blues have lost 2 games & won 3 games out of 6 matches played & the rest one was a draw. This is the only team which has scored 8 goals from crosses in this competition of 2013–14. This count is double than that of scored by any other team.
The People's club is the only unbeaten team in this tournament of 13–14. With 3 won & 3 draws the club has maintained its position at 4th position in league table. But this team has not won 4 consecutive matches in Premier League contest.
At Etihad Stadium, The Blues scored in fifty three matches successively. Everton Forwar, Romelu Lukaku scored 6 goals in last 5 appearances. All these goals are scored within an average of thirty seven minutes. Man City won only 2 times out of last 12 games played against The Dogs of war.
Manchester City Vs Everton Head to Head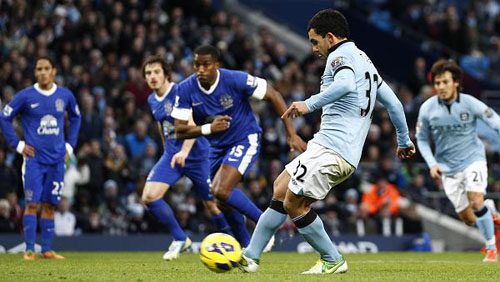 The statistics of head to head comparison is 50% win & 50% loss of both teams. These are first 2 teams of this tournament which are at equalized position against each other. After playing 156 matches both have won 58 games with 58 loss & the remaining 40 were draws. So this match will decide which team is will change this record or it would be a draw again.
DON'T MISS: Norwich City Vs Chelsea Match
Manchester City
Matches Played: 156
Won: 28
Lose: 58
Draws: 40
Goals scored: 217
Everton
Matches played: 156
Won: 58
Lose: 58
Draws: 40
Goals scored: 209