The new home jersey of current champions of premier league i.e. Manchester City is leaked. We got some latest pictures of Manchester City's new home jersey which we are sharing with you right over here. Once again, the kit supplier Nike has introduced an impressive home jersey for their club which will be launched soon. Right now, the leaked pictures of Manchester City's 2014–15 home jersey are available & it will be launched in summer 2014 after FIFA World Cup 2014. Have a look on new home jersey of Manchester City.
Manchester City New Home Jersey 2014–15 Leaked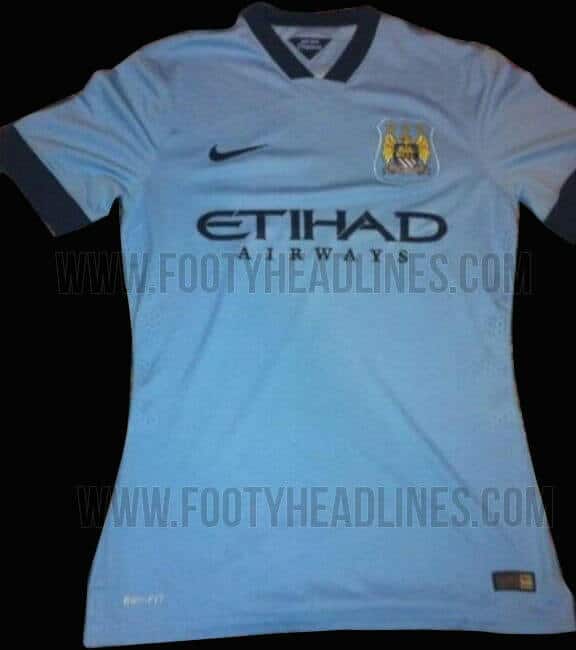 The all new home jersey of Manchester City will be featured in Sky Blue with combination of dark Blue on collars and on the end of sleeves. It comes with a convertible collar instead of a simple v‑shaped collar. Inside this collar, there is a label on which text "We are Cityzens" is written.
Read also: Liverpool New 2014–15 Kits
At the front of the jersey, the banner of Etihad Airways is written in dark blue. In same color the logo kit supplier Nike is also available on right chest. Logo of Manchester City is designed in golden appearance with sky blue boundaries.
We have seen Manchester City's best performance in past few years. Manuel Pellegrini's squad recently lifted the second trophy of premier league within 3 years. This is the second title of the club this season.
Read also: Bayern Munich 2014–15 Kits
With home jersey, there are some rumors about the away jersey Manchester City for next season. Their new home jersey might be in black color. Still, there is long way to go for the launch of new jersey of Manchester City. These new kits will be launched in July 2014 [Expected].