Former Liverpool and current Barca forward Luis Suarez finally reveals why he bits his opponents during a match. The Uruguayan player suffered lots of ban by the governing football body. His ban for playing international games is still on. Suarez was caught biting Ottman Bakkal in 2010, Branislav Ivanovic in 2013 and Giorgio Chiellini in 2014 FIFA World Cup. During an interview with Guardian, he said that biting is an impulsive act and hwy he is still not at fault for the Patrice Evra racism now.
In defence of his impulsive reaction, he said "The adrenaline levels in a game can be so high; the pulse is racing and sometimes the brain doesn't keep up."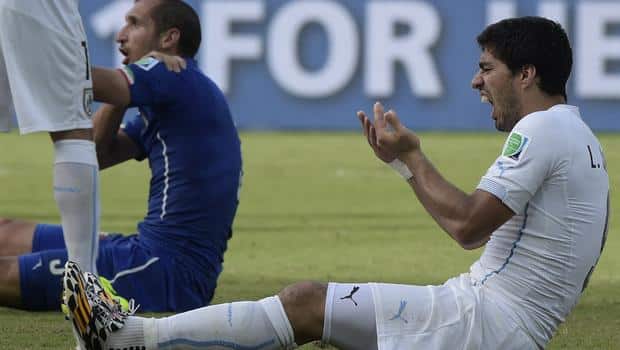 Suarez said about 2010 incident
"The pressure mounts and there is no release valve. In 2010, I was frustrated because we were drawing what was a very important game, and we were on a bad run. I wanted to do everything right that day, and it felt as though I was doing everything wrong. The pent-up frustration and feeling that it was my fault reached a point where I couldn't contains it any more."
He also spoke about 2013 incident. The 27 year old footballer said "With Ivanovic in 2013, we had to beat Chelsea still to have any chance of making it into the Champions League. I was having a terrible game. I gave away a stupid penalty with a handball and I could feel everything slipping through our fingers. I could feel myself getting wound up."
In last FIFA World Cup 2014, he repeated the incident about which he said "Moments before Chiellini bite, I had a great chance to put us 1–0 up. If I had scored that goal, if Buffon hadn't made the save, then I would not have done anything. But I missed the chance."
"The fear of failure clouds everything for me — even the blatantly obvious fact that I have at least 20,000 pairs of eyes on me; it is not as if I am not going to be seen. Logic doesn't come into it."
He criticized the ban of FIFA that allowed him not involve in club and international games. He took the example of Zidane and Tassotti saying their punishments were minimal. FIFA also revealed reason why Suarez was not included in 2014 Ballon D'or shortlist.
Watch the video of all incident in the video below.
https://www.youtube.com/watch?v=Uy31pdfntUw
Suarez said "Had the ban stopped at nine Uruguay matches, I would have understood it. But banning me from playing for Liverpool, when my bans in England never prevented me from playing for Uruguay? Banning me from all stadiums worldwide? Telling me I couldn't go to work? Stopping me from even jogging around the perimeter of a football pitch?"
"They had never banned a player like that before for breaking someone's leg or smashing someone's nose across his face, as Mouro Tassotti did to Luis Enrique at the 1994 World Cup. They made a big thing of saying the incident had happened "before the eyes of the world." Zinedine Zidane headbutted Marco Materazzi in a world Cup final in 2006 and got a three match ban."
Luis Suarez was fed up with his this illness and also admitted that he was seeking psychiatric help to get rid of it.