After leaked Kits of Real Madrid, Bayern Munich & some other club, the home, away & third kit of Liverpool football club are also leaked. This kit was leaked via draws by RAWK user fumier. Liverpool players will wear this new kit in next season 2014/15. All three kits of this English football club are leaked, so check out new uniform of Liverpool.
Liverpool New Home Kit for 2014/15 season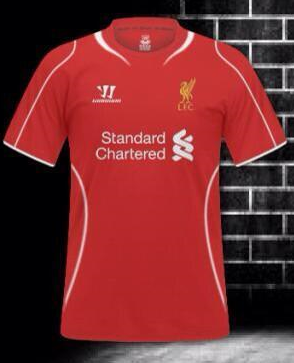 The kit supplier warrior has designed new kit for this club. All three new uniform looks very simple in design which looks very normal. Home kit of Liverpool is mainly consists of red color with white appearance. At the front of home shirt, there are two white colored stripes starting from shoulder to bottom of arms. 2 more stripes are also there from abdomen side to bottom of waist. Home jersey also features a white trim on the collar. Sleeves cuffs are also designed with white color. At right chest, logo of warrior supplier is designed & at the left chest, club logo is there.
New Away kit of Liverpool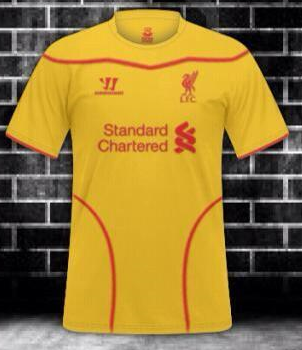 There is only color difference in away Jersey of Liverpool for next season. In place of Red color, Yellow color is used as main color with applications of red color. For next season, Liverpool players will wear yellow colored Jersey for the fist time after season 2006-07. Instead of white color, the stripes are designed with red color. There is a little bit change at the upper portion of Jersey. One stripe from left to right through chest is also available. Both logos are also in red color with red colored Standard Chartered banner at front.
Third Uniform Kit for 2014/15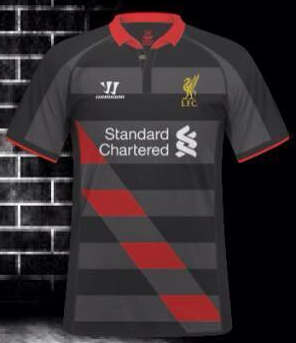 This kit is completely different from rest 2. Warrior has made lots of changes in this Jersey. Three color combination of black, grey & red colors are used & design is also unique. Wide horizontal colored stripes are also available at front of third Jersey. batch of club is in yellow color with white colored logo warrior. Sponsor's banner is also in white at front of it. The design is produced by a member of Liverpool FC forum Red & White Cop & has appeared on social Media.