Liverpool's kit supplier warrior has launched new home, away & third kit of 2014–15. New third jersey is most unique kit of the club designed by warrior. New home kits of the club are in red, while, away kits are designed in yellow. The kit supplier also launched goalkeepers kit of Liverpool of next season. Few months ago, these kits were leaked & now they are launched by the kit supplier. Check out all latest kits of Liverpool for new season.
Liverpool New 2014–15 Home Kits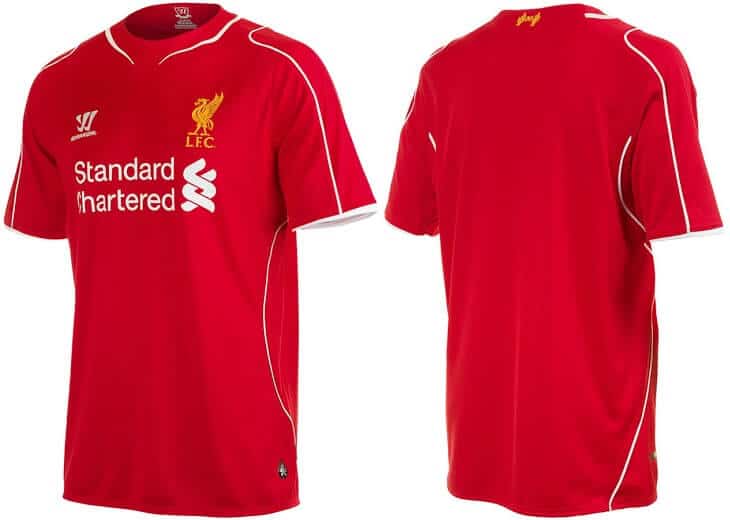 Jersey: As red is the home color of the club, the all new jersey of Liverpool are in same color with some appearance of white appearance. Home shirt is featured with a white trim on the collar as well as on the side of the shirt and the sleeves. The complete design of home jersey is looking alike last season's jersey. Its back is made with the 96 logo to commemorate the events at Hillsborough in 1989.
Read also: Chelsea 2014–15 Home Kit
On front of Jersey, the name of sponsor company "Standard Chartered" is written in white color. On left chest, these is logo of the club in yellow appearance, while on other side, a logo of kit supplier is there. Both home & away jerseys are designed with polyester fiber which is the best material to manufacture jerseys.
Shorts: Shorts are also in reed with combination of white color. On red background, there is appearance of single stripe in white along with logo of club & warrior. Socks are also designed in red background.
Red also: Bayern Munich 2014–15 Kits
Liverpool 2014–15 New Away Kit
In away kit of Liverpool 2014–15, red is replaced by yellow color & white is replaced by red. The layout of away kit same as that of home kit. There is only a difference of color combination in away kit of Liverpool for the season 2014–15. All badges & logos are in same place in new away kit of Liverpool.
Liverpool Third Kit For 2014–15 Season
Third kit is designed completely different from first two kits. In third kit, there is combination of Red, Black & White colors. Also, wide horizontal stripes are designed on front of jersey. The ends of sleeves and collars are provided with red color. This is the most experimental kit of Liverpool designed by warrior.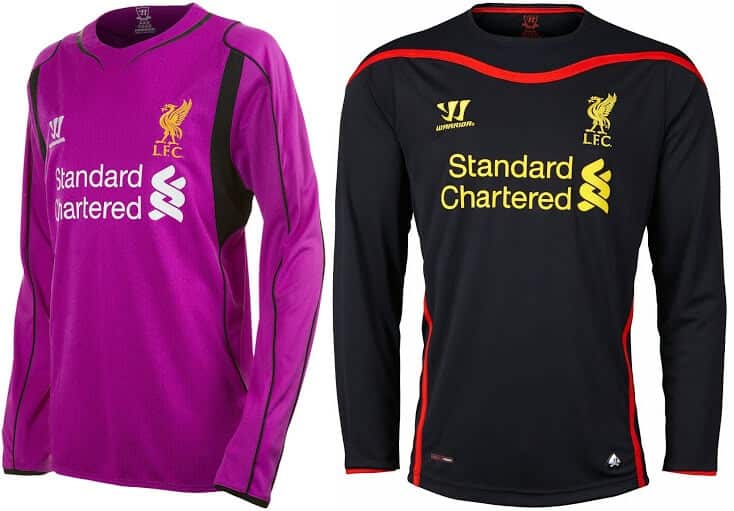 Goalkeeper Kits are also launched by warrior. The goalkeeper jerseys are available in violet & black color. Home goalkeeper jersey is combination of violet & white whereas, away goalkeeper kit is made with the combination of black & red color.